Quad biking is a sport that is gaining popularity in the country and is a good way to wind down while bonding with your loved ones.
It basically involves riding a quad bike; a four-wheeled motorbike. It can be done by both adults and kids, and little training is required to master the skill.
Quad biking can be done on both normal and rugged terrain. Below is a list of locations where this activity can be undertaken in Kenya;
1. Lukenya Motorcross
Located in Athi River, the Lukenya Motorcross is a popular destination for people seeking to engage in fun outdoor activities, quad biking being among them.
The rugged terrain and nature surrounding the area adds to the thrill of it. For more fun, go biking as a team and engage in friendly competitions.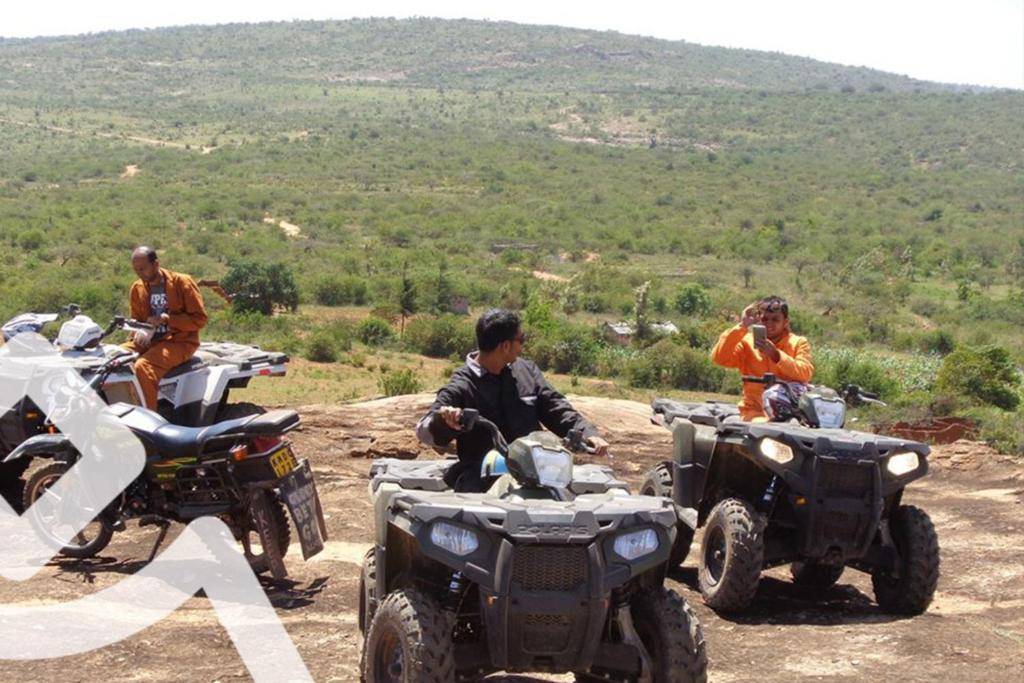 For first-timers, instructors are present to take you through. Their charges vary depending on how much time you spend biking, i.e. Ksh. 3,000, Ksh 4,500, Ksh 6,000 and Ksh 10,000 for 30 minutes, 45 minutes, one hour and two hours respectively.
2. The Last Village
The Last Village is a lodge located in Athi River, Machakos County.
Its location allows you and your loved ones the perfect getaway away from the city, surrounded by lush rolling hills and spectacular views.
The lodge features a 2.5 km long track that is perfect for quad biking, giving you the chance to explore what lies beyond.
Bikes for children are also available, complete with helmets for precautionary measures.
Charges depend on the size of the bike you choose; Ksh. 1000 for the small size, Ksh 1500 for the medium-sized and Ksh 2500 for what they call the buggy quad bike.
3. Kipsing Camp
If you've never been to Samburu County, then the Kipsing Camp should be your next stop.
Here, you're completely surrounded by nature, with the River Ewaso Nyiro topping up your views.
Go on an adventure in the wild with a quad bike, and marvel at the scenic views.
The terrain is ideal for both seasoned and novice riders, with guides being present to take you through.
Charges are Ksh. 1000 for every 30 minutes you spend riding.
4. The Kompass at Ngong Hills
Situated in Nairobi's outskirts in Kajiado County, the Ngong Hills are a great stop for anyone looking to revel in nature without being too far from the CBD.
The Kompass offers guests a wide range of outdoor activities to choose from. Quad biking is among these activities, giving you the chance to explore the expansive seven hills and capture spectacular sights along the way.
Charges are Ksh. 1000 for ten minutes of biking, though an additional fee of Ksh. 232 for adults and Ksh 58 for children is paid for entrance to the facility.
5. Two Rivers Mall
The Two Rivers Mall is the biggest mall in the country and is located in the Ruaka area of Kiambu.
The mall largely serves recreational purposes to guests, offering them fun activities to engage in while running errands.
Tactical Sports Kenya seeks to offer fun outdoor games at the mall for affordable prices.
Quad biking is among the activities they specialize in, and they offer training to first-time riders.
Tag your team along for thrilling competitions. Charges vary from Ksh. 500 to Ksh 2000 depending on time and season.
6. The Sirville Lake Elementaita Lodge
The shimmering waters with flamingos painting a pink carpet at Lake Elementaita is definitely a sight for sore eyes.
The Sirville Lodge is situated on the lake's shores, giving unrivalled scenic views.
The expansive lodge features numerous trails where quad biking can be undertaken as you go adventuring.
Charges are Ksh. 1000 for 40 minutes of biking.
7. Ol Lentille Sanctuary
The Ol Lentille Sanctuary in Laikipia gives you the chance to retreat in the wild savannas, away from the noise and chaos of the city, and help you wind down.
Go bird watching and nature trailing in the dense vegetation, and get lost in the beauty of nature.
The terrain is ideal for quad biking for both beginners and experts. To go quad biking, you need to be a guest at the sanctuary, and no additional fees are paid for the bike ride.
8. Galleria Shopping Mall
Situated in Langata's suburbs, about five minutes from Nairobi's CBD, Galleria shopping mall is a fun-filled destination that seeks to give visitors a good break amid their shopping errands.
They have long tracks where quad biking can be undertaken, either as a group or solo.
Charges vary depending on the time of day and range anywhere between Ksh. 1000- Ksh 2000 per person.