Langata, one of the constituencies in Nairobi is dominated by the affluent and middle class in Nairobi and is well known for its vast posh estates.
One can get to Langata via two routes; Ngong Road through Karen or the Rongai route.
Its proximity to Nairobi has seen the area experience an incredible growth spurt, among them housing plans, companies and corporate offices.
To balance the industrial growth, clubs, lounges and bars have been set up where people can unwind while listening to music and indulging in drinks.
Below is a list of the most popular clubs you pay a visit to in Langata;
1. Rafikiz Bar and Grill
Situated along Langata Road, Rafikiz Lounge is a top entertainment spot in the area, offering an all-rounded experience to fun seekers.
The grill area is a good stop for meat dishes such as nyama choma, smokies and samosas.
For all your drink needs, the bar area caters to you by offering a variety to choose from, ranging from hard to soft drinks.
Music is available to add to the thrill where the DJ plays different genres, catering to you. Saturdays are for reggae vibes, and if you're a fan of miraa (khat), you're in for a real treat
2. Club M's
Given a 4-star rating for their impeccable services, Club M's located along Langata Road, near the Bomas of Kenya, seeks to meet your needs, whether you're looking for a quick fix to steady you, or want to go wild partying.
The architecture and design are alluring, and they have both an indoor and outdoor area for sitting.
Order your drink of choice, and as you sip it, feel free to interact with the crowd, or dance along to the booming music.
3. Club W
This is arguably the most luxurious lounge in Langata.
Located inside the Weston Hotel opposite Wilson Airport, the lounge area is a sight to behold with its illuminating lights and magnificent decor.
Once you choose a comfortable spot, a waiter is on standby to take your order.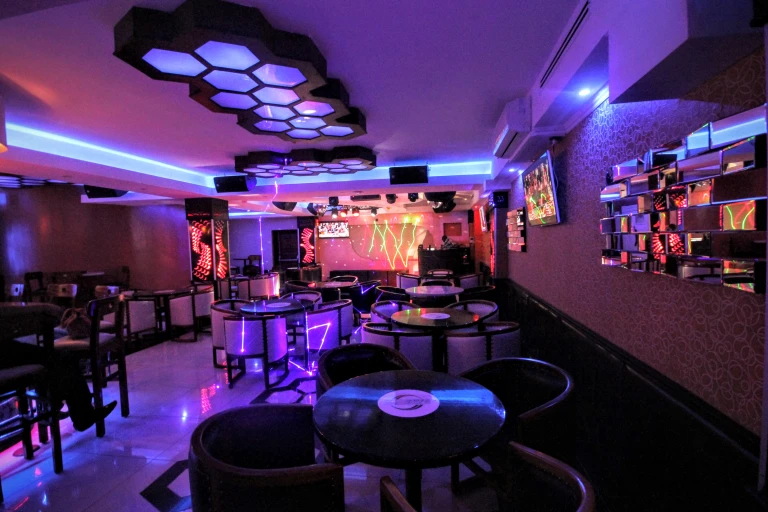 Start by savouring a delicacy from their wide range of local and international dishes.
The bar area is stocked with the most exotic drinks.
Soothing music will be playing in the background, but feel free to make a specific request.
If you're looking for a place to put up, they have well-serviced rooms for that.
4. Anchor Pub and Grill
This sports bar, located on the first floor of Quincy Mall is ideal for both dine-in and takeaways in the middle of running errands.
They offer irresistible delicacies to start you off, ranging from snacks like burgers to main meals like nyama choma and pork. Follow this up with your drink of choice from the bar area.
They have an outdoor area where you can enjoy the breeze and views of the surroundings.
Parking facilities are available, topped up with ample security, so you need not worry. They are open daily from 9.00 am to 5.00 in the morning.
5. Tamasha Sports Bar
Tamasha Sports Bar is located in an ambient environment, making it the perfect location if you're looking for serenity and calm.
Located along Bogani Road, the bar is ideal for both group hangouts or solo dates.
Their menu is detailed with a variety to choose from, both snacks and main meals.
Whether you feel like indulging in a soft drink, beer, or something hard, the bar offers you varieties at pocket-friendly prices.
Get entertained by the DJ playing unlimited music that will make you unleash your latest moves.
6. Psys Bar
Located inside the TMall, Psys bar is a popular stop for people running errands in the mall and those who simply need a place to wind down.
Serving a variety of local dishes, pick a delicacy to start you off, then follow it up with a drink, whatever you like.
Different genres of music are played to add spice to your experience.
Parking facilities are ample, and security is highly guaranteed by the friendly guards.
7. V-1 Sports Bar and Grill
This popular entertainment spot in Quincy Mall along Langata Road is perfect for group hangouts and lovers of rowdy crowds.
The gorgeous ladies and swanky lads will leave you drooling, and the sumptuous dishes will make you crave more.
A wide range of drinks is available, from gin to whiskey, beer, wine and soft drinks. Be on the lookout for happy hour offers on selected cocktails as well.
Enjoy games on the big screens including football and Formula One as you indulge in your favourite drink.