Located along Limuru road, in Ruaka, at the heart of Kiambu county lies the Two Rivers Mall, essentially the biggest in East Africa and among the largest in Sub-Saharan Africa.
Apart from shopping complexes and suites, residential areas have been integrated as well.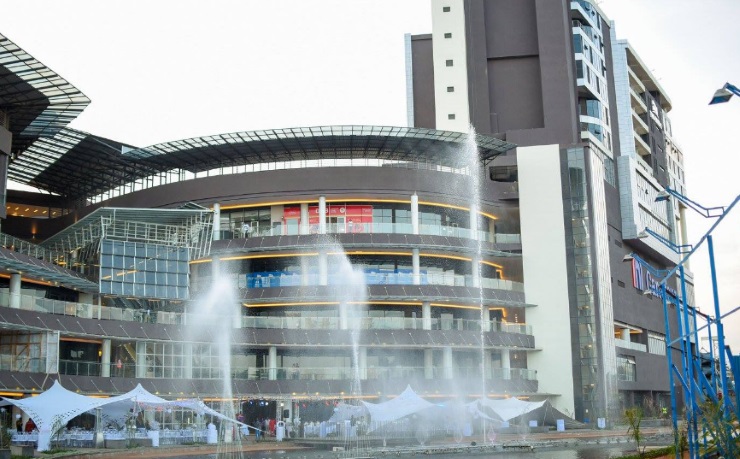 The architecture largely speaks of elegance, and this is your go-to place for an all-round experience.
The mall opens every day at 8.30 a.m and closes at 11.00 p.m.
Below is a list of fun activities to engage in at the Two Rivers Mall.
1. Go Karting
Go-Karting is basically the act of racing small cars called go-karts along racetracks. The activity is super thrilling, and you should definitely try it.
This activity is sponsored by Madmax and can be undertaken by both adults and kids, so feel free to bring your whole family along for a good time.
The charges vary depending on the time one takes and the day of the week. From Mondays to Thursdays, the charges range from KES 2300 – KES 9300, while on weekends, the price ranges between KES 2800 and KES 11300.
To avoid hitches, you are advised to make reservations beforehand since the mall gets swamped with people, especially on weekends.
2. Ferris wheel ride
The Ferris wheel ride has to be the top activity at the mall.
Standing tall at a staggering 60 meters, this is your go-to activity if you are an adrenaline junkie.
Popularly known as the eye of Kenya, riding the wheel gives you the rare chance to be airborne and have a panoramic view of the vast Nairobi city and its environs.
It has 40 cabins, each sitting six people, so to spice things up, tag your family or friends along.
Charges for the ride are KES 500 per person, and free for children under four years.
If you have a height phobia, this might be the perfect chance to face your fears head on.
3. Aqua park
Children find a thrill in playing with water, and this aqua park is the ideal place to satisfy their curiosity.
It is important to note that only children under 12 years are allowed into the park.
A swimming pool is located within, perfect for cooling down in the searing temperatures.
Other play equipment is available where your child can splash water as he/she gets acquainted with their playmates.
There are tuck shops within so your child can nibble on snacks as they play around.
4. Drop Tower
This is another activity to engage in if you are an adrenaline junkie.
The tower, about 18 meters high, seats 12 people. Being up there gives you a superb panoramic view of the surrounding areas, and if you are a romantic, you will be intrigued by the breathtaking sunset view.
After being airborne, the tower then begins descending rapidly, as you scream your lungs out due to the sheer thrill. The experience is quite unbeatable.
The tower is reprogrammed every time, so the experience changes every time you try it.
Charges are KES 500 for adults, but the tower is not advisable for children under 12 years.
5. Flume ride
This is another thrilling experience for both adults and kids. In the flume ride, revellers sit on logs propelled by water.
The experience is really enjoyable and is the perfect way to unwind and feel young again.
Charges for the ride are KES 500 per person and free for children below 4 years
6. Two Rivers Cinema
For film enthusiasts, your experience will be nothing short of epic at the Two Rivers Cinema, which happens to be among the biggest theatres in the region.
Opened in partnership with century Cinemax, the facility streams blockbuster movies as soon as they premier, in either 2D, 3D or 4DX to spice up your cinema experience.
Snacks are sold within to cater for your dietary needs.
Recently, a kids' showroom was set up to suit children of all different ages, streaming child-friendly shows.
7. Nyumba Cinema
The Nyumba Cinema is a film theatre located within the mall as well, streaming different shows and is ideal if you fancy a less crowded place.
8. Dine at The City Lodge Hotel
This is a state-of-the-art facility located within the Two Rivers Mall and is your go-to place if you are looking for grandeur and luxury.
The four-star hotel offers accommodation in premium rooms going for about KES 13,500 a night.
The rooms are well aerated and up to standard, offering 24/7 room service.
Different cuisines are served, and conference facilities are also available should you be having one of those corporate meetings.