Conveniently located at the junction of Lang'ata and Magadi road, the Galleria Mall seeks to spice up your shopping and leisure experience by offering you various shopping outlets to choose from.
The expansive mall is slowly integrating a business complex and residential houses into its plan as well.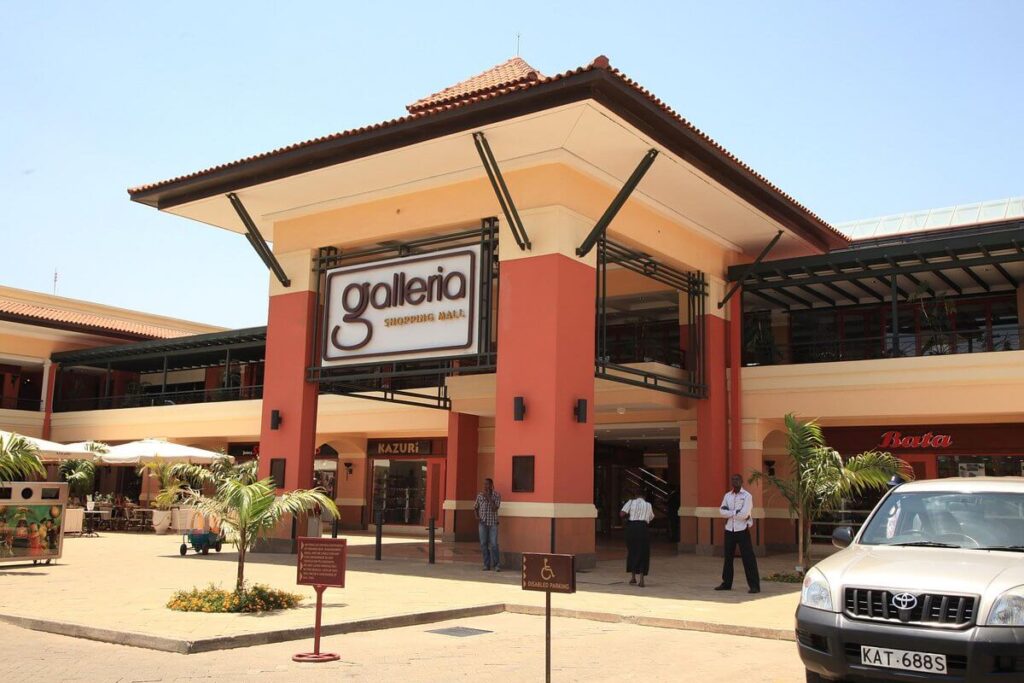 The serene aura in the surrounding areas is exactly what you need to unwind, so feel free to go on a solo date or drag your family and friends with you.
The Galleria Mall opens daily at 8.00 a.m. and closes at 11.00 p.m.
Below is a list of fun activities to engage in when visiting the mall;
1. Dine at Artcaffe restaurant
For all your food cravings, slap-up meals, drinks snacks and full-course meals, Artcaffe will take care of that.
With a wide array of dishes to choose from, this is your chance to try out something new.
Need some caffeine to steady you? Order coffee and top it up with pastries like croissants, caramel cakes, muffins and cinnamon rolls.
Try out different chicken and beef delicacies, served with various accompaniments and salads.
If you are a pizza lover, they have that on their menu as well, coming in different flavours.
2. Shop for clothes at Woolworths and Mr Price
Should you wish to improve your wardrobe collection with fancy clothes, Woolworths, one of Nairobi's leading clothing outlets, have you covered.
The store is all rounded in that it sells attires for men, women and children of all ages.
They sell literally everything, from formal office wear to casual outfits, clothes to wear at the gym, gardening clothes, pyjamas, lingerie and even shoes.
You will be spoilt for choice with their wide collection.
Mr Price is another leading clothing store selling flashy outfits and accessories, so if you feel like breaking the bank, this is the right place to spend your money.
3. Shop for African-made products at G-Crafts
G-Crafts Africa is an exhibition hall stocked with hundreds of African craft wear, from belts, beaded accessories like necklaces and bracelets, local shoes with African prints on them, and local wear, the list is endless.
Visiting the stall is your perfect chance to get a souvenir or gift for a loved one.
4. Burn off energy at the gaming arcade
The Galleria kid's fun club is the best place to drop your kids off if you are looking to have your hands free for a couple of hours.
Activities at the club are suitable for children of all ages, including toddlers.
The play area is equipped with maze nets, pit balls, slides, swings and trampolines where your child can burn off energy in a healthy way.
There is a reading area with lots of story books that will help your child develop a reading interest at a young age.
If your child is artistic, there is a corner where he/she can improve their art skills.
Charges for the fun club are Ksh 300 for 30 minutes, Ksh 500 for an hour and Ksh 1,000 for a day
It is mandatory for the children to have safety socks on at all times.
5. Watch a movie at the Drive in cinema
What better way to blow off steam other than watching a good movie? Galleria mall offers you the chance at a cinema experience.
However, it is not your typical sit-in kind of experience, but a drive-in. With this kind of set-up, a large outdoor movie screen is set up, complete with projectors.
There is a parking space for vehicles, so revellers watch movies from the comfort of their cars.
Quite the experience, right? Blockbuster movies and other genres are streamed, and this kind of structure gives you the opportunity to interact with other movie fanatics.
This is not an everyday kind of set up though, so you have to keep tabs to know when movies are being showcased.
6. Keep fit at Firstpower fitness centre
A well-coordinated workout session will do magic not only to your mind but your exhausted body, and help you attain those body goals that you desire.
At the Firstpower fitness centre, a world-class gym, you have the golden chance to kick-start a fitness routine at an affordable price.
A personal trainer to ensure you don't lose track of your goals is assigned to you.
Different equipment to exercise various parts of your body like treadmills, cross trainers, spin masters and cardio equipment are available, so feel free to choose whatever suits you best.
Classes are offered from Monday to Saturday at an affordable fee.