Bowling is a thrilling sport that involves rolling balls down a bowling alley and hitting targets.
Anyone who manages to hit all the targets is the winner. The game can either be played alone or against a rival team.
Over the years, bowling has gained popularity in Nairobi, with many viewing it as a great way to wind down and flex muscles.
Below is a list of the top bowling places in Nairobi;
1. Strike Arcade
Strike Arcade is a gaming house situated in the Waterfront Mall, Karen. It has a great bowling alley to try out the game.
The mall is hardly crowded, giving you the intimate space you need for quality time.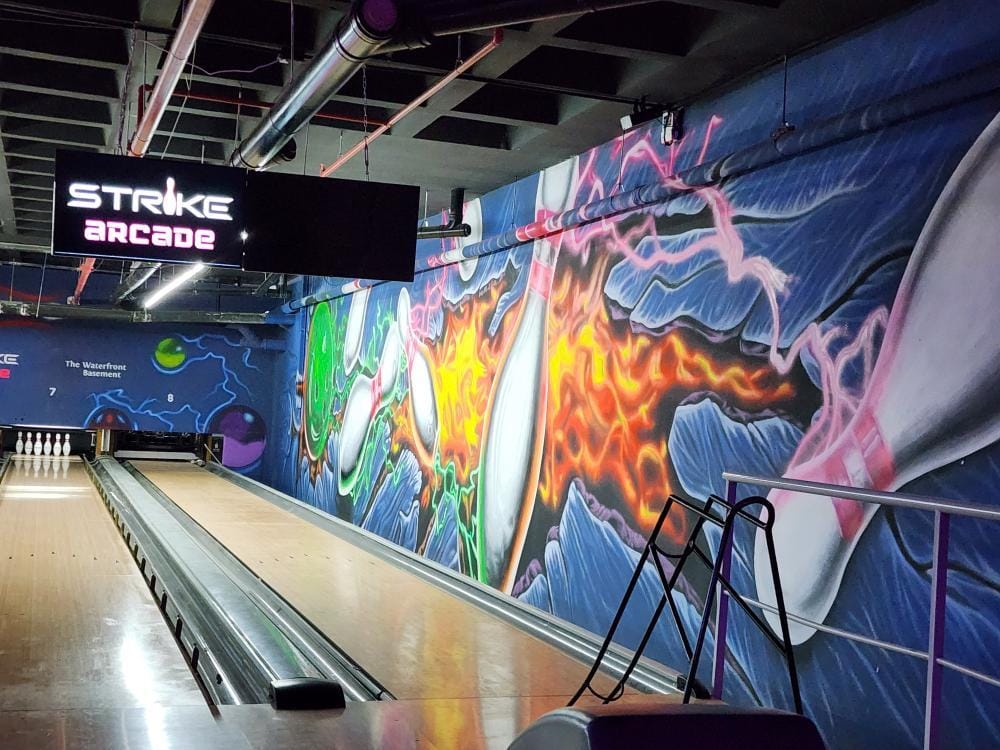 Numerous restaurants and snack bars are located within the mall, so you need not worry about feeling hungry.
Charges are Ksh. 350 per person, per game. Safety socks and shoes are also available. The gaming house is open daily from 10.00 a.m. to 9.00 p.m.
2. Sarit Centre
The first floor of Sarit Centre is home to Pins Entertainment, a popular spot for gaming, guaranteed to give you value for money.
The bowling alley is great for both adults and children, with safety being guaranteed.
Charges vary depending on the peak hours, with them charging Ksh. 350 for off-peak, and Ksh 500 for peak hours. They open at 9.00 a.m and close at 12.00 midnight
3. Village Market
Village Market situated along Limuru Road is one of the most popular malls in Nairobi, and their gaming arcade, The Village Bowl is just as popular.
At the gaming alley, play unlimited games against a rival team and experience the thrill of winning.
The alley has eleven lanes, spectacular lighting to lure people, and calming music in the background.
A snack bar is located within to cater to you.
Charges are Ksh. 500 per head, per game, and safety shoes are also provided. They open at 8.00 and close at 9.45 pm.
4. Westgate Mall
Located along Mwanzi Road in Westlands, the Westgate Mall boasts of the Strikez Gaming Arcade situated on their first floor.
The gaming arcade is well-reviewed for being affordable and offering good services.
Grab a quick meal from the restaurants within to keep you going as you play the game.
Charges are Ksh. 600 for peak hours and public holidays, and Ksh. 400 for off-peak hours. Once you pay, safety shoes are provided to keep you safe as you enjoy your game.
5. NextGen Mall
NextGen Mall is located along Mombasa Road and is home to the Playland Amusement Park, which has an eleven-lane bowling alley; the perfect place to try out the game.
If you are new to the game, instructors are available to take you through. A snack bar is located within, so you can grab something to eat or drink as you play.
They charge Ksh. 500 per person for every game, and the facility is open daily from 10.00 a.m. to 8.00 p.m.
6. Two Rivers Mall
Ranked the biggest mall in the country, Two Rivers Mall, situated in Ruaka, Nairobi's outskirts, has gained popularity as a recreational centre.
The Magic Planet is a gaming arcade located inside the mall, so if you're looking for a place to go bowling, this is the right place.
It is a family-friendly place, so tag your people along for the ultimate experience.
In the children's area, guards keep watch, so you can go about your activities without distractions knowing your kids are in safe hands.
Charges are Ksh. 500 per person for every game.
7. Cosmic Bowling
Situated in the Parklands area, Cosmic Bowling is the perfect place to try out the game, complete with disco lights, runway lights and live music.
The decor is equally enticing to set you in a gaming mood. The place opens daily at 8.00 a.m and closes at 5.00 pm
8. Nairobi Club
Started in 1901, the Nairobi Club is a members-only club that began with the aim of creating a homely environment for its members.
Part of their amenities includes lawn bowling, also known as green bowling, where players roll down balls on grass, aiming for a target.
It's quite an interesting game, allowing players to interact with nature.
Playing the game is only Ksh. 150 for members of the club and Ksh 200 for guest players. Members are at liberty to pay a special fee of Ksh. 2000 per month.