Swimming is a good way of exercising and flexing muscles, and also a great way to wind down after a long day.
In the searing Nairobi temperatures, a good dip would do anyone justice in helping to rejuvenate.
Nairobi is home to numerous spots offering swimming services both to adults and kids. Below is a list of the best ones;
1. Chester House Swimming Pool
This popular facility is located on the fourth floor of the Chester Hotel situated along Koinange Street.
Its strategic position allows guests breathtaking views of the vast CBD and its environs.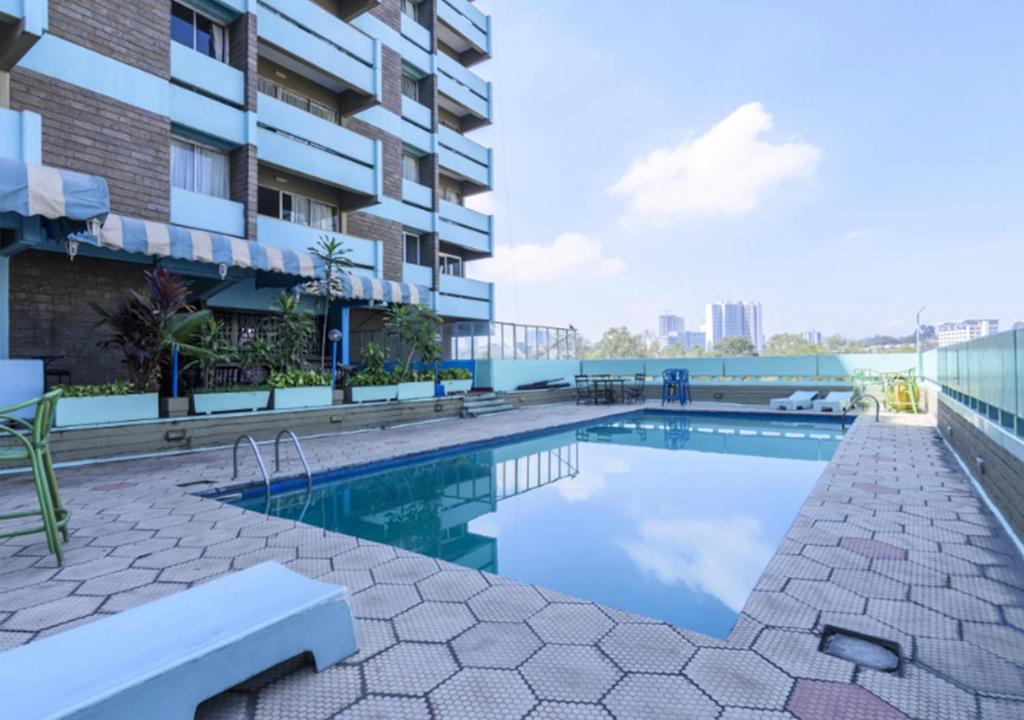 As you bask in the sun, order a drink from the bar. There is a pool for toddlers of all ages, and guards keeping watch.
Prices for swimming are Ksh. 500 for both adults and kids and the facility is open daily from 8.00 a.m. to 6.00 p.m.
2. Asyana Gardens
Situated along Nosim Road in Ongata Rongai, Asyana Gardens is a popular retreating facility with a modern swimming pool guaranteed to give you the best swimming experience.
Perfect for family getaways, tag your kids and let them have fun at the children's pool.
The rates are Ksh 200 for children up to 12 years and Ksh 300 for both youths aged 13 to 17, and adults. They are open daily from 8.00 to 10.00 a.m
3. Kasarani Aquatic Stadium
With hundreds of positive reviews, the Kasarani Aquatic Stadium is another top swimming spot in Nairobi, ideal for both recreational and professional swimming.
A baby pool is available for toddlers of all ages, and safety for the same is guaranteed.
When it gets cold, the pool heats up to keep you warm. Charges are Ksh. 200 for both adults and children of all ages.
4. Barclays Swimming Pool
Located inside the Barclays Sports Club in Ruaraka, the swimming pool is one of the most frequented in the area.
They are open to the public on weekends from 9.00 a.m to 5.00 in the evening. Lifeguards are available to guarantee your safety, alongside swimming equipment if you're new to the sport.
Charges are Ksh. 300 for adults and 200 for children.
5. Panari Hotel
This five-star hotel situated along Mombasa Road has the most luxurious indoor pool with access to a sauna; the perfect way to wind down.
For beginners, lifeguards are present to ensure your safety.
Charges here are Ksh. 1500 for adults and Ksh 1200 for children.
Swimming lessons are offered at an extra fee depending on the package you choose.
6. The Methodist Hotel
Boasting a 25-meter-long swimming pool, the Methodist Hotel, situated along Oloitoktok Road, is an ideal place to retreat to for either a solo hang out or with family and friends.
The pool offers you a much-needed break from the hot temperatures. A baby pool is also available for your young ones.
Order culinary services from the poolside and get to enjoy a meal as you bask. Charges are Ksh. 500 for adults and Ksh 400 for children.
7. East Africa School of Aviation
If you're looking for an affordable place to go swimming, whether alone or with your group, the East Africa School of Aviation is the ideal location.
They have a vast outdoor pool that is well maintained and a baby pool for your toddler to revel in.
Charges are Ksh. 200 for adults and 100 for children.
8. Brookhaven Gardens
Situated in the leafy suburbs of Karen, Brookhaven is your go-to place if you fancy privacy and small crowds.
They have two pools, one for adults, and one for kids, with a stunning view of the green surroundings.
For the beginners, a coach is available to take you through, with equipment like floaters to keep you safe.
Charges here are Ksh 300 for adults and 200 for kids.
9. Meridian Hotel
Located along Muranga Road opposite the Jeevanjee Gardens, Meridian Hotel boasts a modern pool that is open to the public every day from 7:00 in the morning to 7:00 p.m.
Cleanliness is a top priority of theirs, so you need not worry about hygiene. In the morning hours, the pool is heated to warm you up.
Trainers and safety equipment are also available. Charges are Ksh. 1500 for adults and Ksh 750 for children.
10. Royal Tulip Canaan
Located in Kilimani near the Yaya Centre, the Royal Tulip is a hidden gem that offers you an intimate area to relax in.
The swimming pool offers you the chance to cool down from the hot temperatures.
Their changing rooms are spotless and well-maintained, and the pool is clean.
Their charges are Ksh. 1200 for children and Ksh 1800 for adults, inclusive of lunch.