A few minutes away from Nairobi CBD, in one of the leafy suburbs of the city, lies Westlands, a small town full of nothing but elegance and luxury.
The aura itself speaks of class, from the well-maintained roads, magnificent buildings, clean streets and even the people around the place.
Whether you are looking to unwind and relax in a laid-back manner or looking for hype and thrill, your list of options is endless.
Due to its location, the area is largely cosmopolitan and is not dominated by a specific linguistic group, and is rather a melting point of cultural diversity, where different tribes come together and settle.
Expatriates are also present in the area. Despite its grandeur and stature, there exists a couple of places that you can visit without breaking the bank.
Below is the list of places you could visit, and the respective activities to engage in while in and around Westlands.
1. Sarit Centre
Sarit Centre is among the most famous shopping outlets in town, with its hundreds of different stores stocking different items that will be sure to catch your eye.
The drive from Westlands to Sarit takes about five minutes, and you could even walk as you survey the surrounding areas.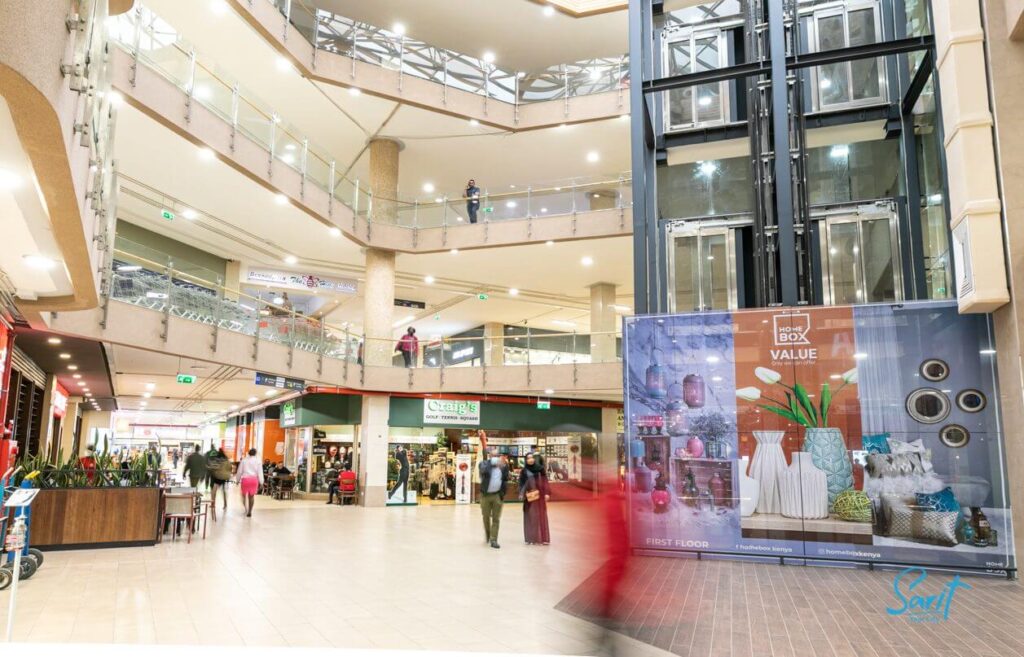 Leading outlets like LC Waikiki, a popular clothes and shoes brand, have branches there that you will be spoilt for choice.
Supermarkets are in plenty, offering crazy discounts to customers as well. Looking to gift a loved one? Stop by one of the gift shops and pick up something enticing at an affordable price.
Food stalls are also available, so feel free to get nutritional advice and fresh products from them. There is an expo centre that holds exhibitions every so often, an activity that attracts buyers from all over the world, you will be in for a real treat if you stumbled upon one of those.
If you are a sucker for good coffee, try stopping by Barista &Co, a coffee shop within the mall. They also specialize in making delicious cakes that will do justice to the coffee.
Try other amazing restaurants like Mugg and Bean, and Rocomamas for a taste of some good food.
2. The Alchemist
Located along Parklands road near the Sarit Centre, this bar is where music meets fashion, thrill and pure positive energy.
Revellers throng the bar, mostly on the weekends, to have a glimpse of real entertainment. The Alchemist however is not your average kind of bar, if the architecture is anything to go by. It is made up of tuck shops, restaurants where you can dine in or take away, and even truck restaurants.
The management aspires to give revellers an all-round experience, so they come up with new ways to spice up shows. Guest artists from all over are called to entertain.
Occasionally, open mic sessions are held, which are not only engaging but quite interesting to watch. Fashion galas where designers get to showcase their prowess are also held, hence promoting local and upcoming brands.
Parties and any kind of hyped activity would thrive here, so if you are a sucker for crowds and noise, then set aside some time during the weekend, and spice up your night.
3. Villa Rosa Kempinski In Westlands, Nairobi
Located along Chiromo Road, this is your go-to place if you're willing to break the bank, get pampered and experience the best of the best.
From its appeal, the five-star hotel attracts holidayers from all over the country and beyond. Begin your stay by taking a dip in the outdoor pool, afterwards, you can bask as you enjoy the warm sun.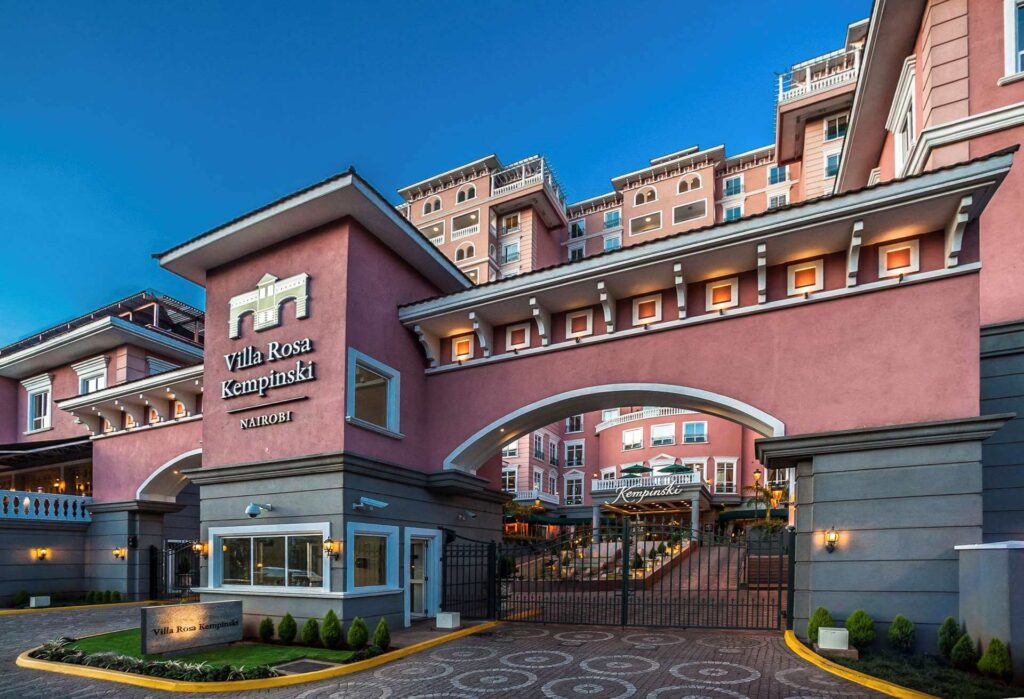 Being largely a European hotel, they specialize in foreign cuisines as well as local African dishes, so don't limit yourself, as this might be the opportunity to try out new delicacies.
Accommodation is offered for about 280 USD a night. The rooms are exquisite, spotless and well aerated, with stable internet connection and overlook the elegant buildings in the city.
A spa and wellness centre is available, so treat yourself to a good massage, and let the masseuses work their magic on you. Engage in other fun activities like indoor games, zip lining and organized safari tours to wherever place you want to visit.
4. Fogo Gaucho
This is a Brazilian restaurant located at the heart of Westlands, and is very popular, not only among the locals but across town and beyond.
Specializing in steak and other Brazilian cuisines, this is your golden chance to try out a new dish at an affordable price.
The restaurant opens daily at 12.00 p.m and closes in the evening. There's the option of dining in and take away as well as delivery at a small fee.
Their meal combos are mind-blowing, you might just find yourself ordering more.
Enjoy different salads, and a full-course meal that starts with the appetizer, the main course meal and finally dessert, all gracefully made by skilled hands.
What's more, the restaurant indulges in game meat as well, which most places don't. If you are a meat lover, the place highly recommends crocodile meat for a start.
Reviews have it that game meat has no weird taste in particular, you might not even realize it. Try different drink combinations such as cocktails and smoothies to go down with the steak.
Everyone is welcome in the dining booths, but children below 18 should be accompanied by their parents.
5. The Sankara Hotel
Think of grander and immediately, this five-star hotel, located along Woodvale Grove, comes to mind. If you are looking for a place to stay, at a price that will definitely break the bank for most people, then this is it.
Rooms, going for about 300 USD a night, are offered in luxurious and spacious suites overlooking the shimmering Nairobi lights at night. Room service is 24/7 in case of those late-night emergencies.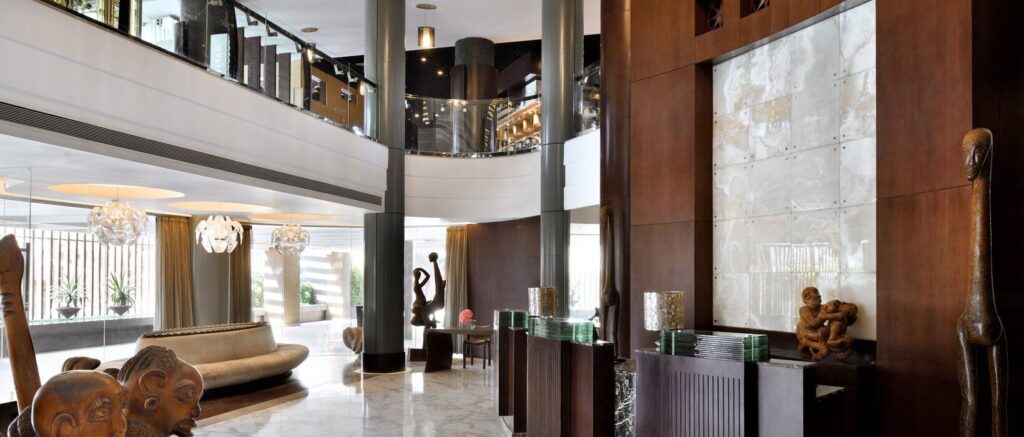 When the temperatures get glaring, take a dip in the swimming pool found on the rooftop deck. Afterwards, bask in the sun as you enjoy stunning views of the city.
The highlight of anyone's day is definitely good food, and the hotel understands this perfectly, specializing in both local and foreign cuisines. Chefs here possess top-tier culinary skills, so feel free to try out new dishes.
What's more is that the place has, not one, but six international restaurants within, you get spoiled for choice on which to try. Bars are available, fully stocked with any kind of drink, so feel free to indulge as you quench your thirst.
Honeymooners looking to spice up their romantic journey should consider staying at this hotel, with the added bonus of a 15 per cent discount on their standard rooms.
A gym and fitness centre are also available, so feel free to go blow off some steam.
6. K1 Klubhouse
Now what's a good tour in Nairobi without some party to go with it? Located along Ojijo Road, the K1 Klubhouse, one of Nairobi's top entertainment spots, offers you this golden opportunity to go out and make merry.
The architecture and entire appearance is simply captivating, and revellers throng the place every weekend to unwind and blow off steam, so it's highly recommended to make reservations and secure a spot if you will be attending with a large group.
Pool tables are available for you to try out the game, as you vibe to good music from the DJ. Every day has its own genre being played; RnB, hip-hop, reggae and classics.
Still, if you fancy some privacy amid all those people, plenty of space is available where you can be alone and introspect.
Different food dishes are served, so get to savour tasty delicacies as you indulge in your favourite drink.
Occasionally, musicians are called upon to perform and entertain, and this might be the perfect chance to showcase those moves on the dance floor.
7. Park Inn by Radisson
If you're thinking that Westlands has endless luxurious places, then you are absolutely right.
Park Inn is a four-star hotel located at the heart of Westlands, and seeks to offer nothing but exemplary service to its guests.
For about 190 USD, get an exquisite room that will instantly give you the 'home away from home' kind of feeling.
The rooms are well aerated, spotlessly clean with stable Wi-Fi, and equipped with tea and coffee makers. They are strategically placed to overlook Nairobi and the magnificent Ngong Hills, so you wake up to stunning views.
Conference facilities are available, in case you need to have one of those corporate meetings, you need not go far.
Events too can be hosted in their facilities. Try out new dishes, well crafted by the most skilled chefs, and afterwards, let your taste buds be blown away by the hotel's mixologist as you savour your favourite cocktail.
Finally, if you are still in the mood to explore other leafy suburbs of Nairobi, Karen and Kilimani are excellent choices