An outdoor seating area in any restaurant is good for improving the aesthetics and general outlook of the facility.
It is also a great way to put visitors at ease, especially if the area is full of trees and plants that give a fresh breeze, which many people desire. The outdoor area can also double up as a play area for kids.
Nairobi is home to several restaurants bearing this kind of seating arrangement where guests go to wind down. Below is a list of the best ones;
1. Talisman Restaurant
Situated in Karen's leafy suburbs along Ngong Road, Talisman has a great outdoor area that will give you plenty of space for group or family hangouts.
Get treated to a spectacular view of the nearby Ngong hills, and the sound of swaying trees and the fresh air tops it up.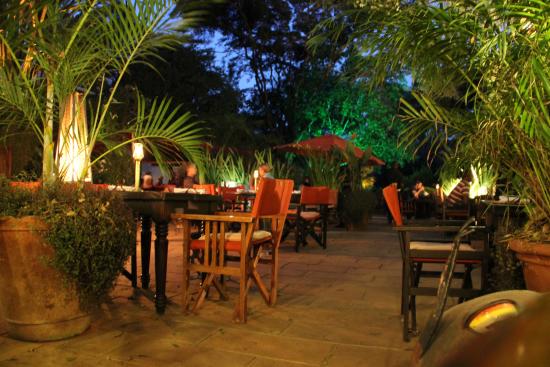 They have an organic garden, and the staff can give you a tour of the place. You might get lucky and see a monkey or two hopping on the trees.
They have different cuisines to savour, and they open from Tuesday to Sunday, from 11.00 a.m to 10.00 p.m
2. River Cafe
Anyone who has been to Karura Forest in Ruaka knows that the environment and whole aura of the place is unmatched.
How about dining at the heart of this expansive forest, surrounded by nothing but acres of plants and trees, and the sound of raging waters from the nearby river?
The River Cafe is located inside the Karura forest and is the perfect stop if you're looking for an ambient place with a great outdoor area.
Indulge in their various cuisines such as continental and oriental dishes while engaging in bird-watching activities.
3. About Thyme Restaurant
Established in 2005, About Thyme, situated in Westlands along Eldama Ravine Road has been ranked as the most serene restaurant in Nairobi.
They seek to give you an unbeatable experience with their spontaneous services and friendly staff.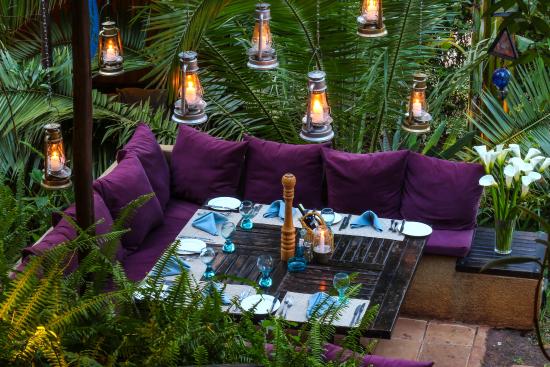 Dine al fresco at the heart of a beautiful garden surrounded by breathtaking plants that will instantly make you forget the chaotic noises of Nairobi.
They have a wide range of dishes; starters, main meals and desserts alongside different drinks. They are open from Tuesday to Sunday, from 12.00 pm to 10.00 at night.
4. Tatu Restaurant
Situated in Fairmont The Norfolk along Harry Thuku Road, Tatu Restaurant is a luxurious facility that has won several awards for its impeccable services and attention to detail.
Dine on the patio overlooking a tropical garden, or take a walk around the restaurant and enjoy the fresh air. At dusk, the place is lit up with alluring lighting, making it perfect for that romantic dinner.
They specialize in different cuisines and use locally sourced ingredients to give you the perfect fusion. They are open on Monday to Saturday, 6.00 p.m to 8.00 p.m
5. Zen Garden
Set out in Spring Valley, Lower Kabete, Zen Garden is an expansive facility nestled in a 2-acre piece of land, defined by beautiful trees and flowers that make the facility's every inch beautiful.
The patio is strategically positioned to give you breathtaking views of the property as you enjoy your meal.
They specialize in a variety of cuisines, and their dishes have not been known to disappoint.
Go on a guided walk to survey the environment and even take photos. They open daily from 9.00 a.m. to 11.00 p.m
6. The Grove Restaurant
Situated at Executive Residency at the corner of Riverside Drive, the Grove is a rooftop restaurant with a great outdoor area that gives guests fantastic panoramic views of Nairobi and its environs.
Indulge in different delicacies, whether you're looking to snack or go all out. Sip an ice-cold drink as you enjoy the views; their drink section has a variety to choose from; cocktails and mocktails, fruit juices and soft drinks.
7. Jiko Restaurant
Located at the Tribe Hotel inside Village Market, Jiko Restaurant is a high-end facility that has been tastefully furnished to give it a luxurious, stylish and chic look.
The outdoor sitting area is exactly what you need to wind down and feel rejuvenated.
The chefs constantly strive to use organic products in their dishes, using the freshest ingredients to ensure quality is maintained. Enjoy cuisines from all over Africa and a drink section that has varieties to pick from.