In the very leafy suburbs of the country's capital Nairobi, lies Kilimani, an area where the who's of the who's, and the prominent people live in.
Lavish buildings, spotless streets and magnificent gardens just define the elegance of the place. Kilimani is loosely translated to mean hilltop and is located only 15 minutes away from Nairobi CBD.
Depending on your location, you could get to Kilimani via a couple of means, with the most convenient being road transport, whether private or public means.
The roads across town all the way to the area are well maintained, so your drive will be nothing short of epic as you marvel at the surrounding grandeur.
Contrary to what most people think, Kilimani has a number of affordable places to visit where you can relax, have fun with friends or simply unwind.
Below is the list of places to visit, and the respective activities to engage in while in and around Kilimani.
1. Arboretum Gardens
Ambience, tranquillity, lush green and calming are just but a few words that would describe the aura surrounding this place.
Located along the Kilimani-arboretum road, it is quite rare to find such serenity in the middle of the chaos that defines urbanization, so the smallest chance you have to get away, make this your first stop.
For an entrance fee of about 1 USD for both locals and foreigners, visitors are free to stay for as long as they like. Gates open at 8.00 in the morning and close at 6.30 p.m.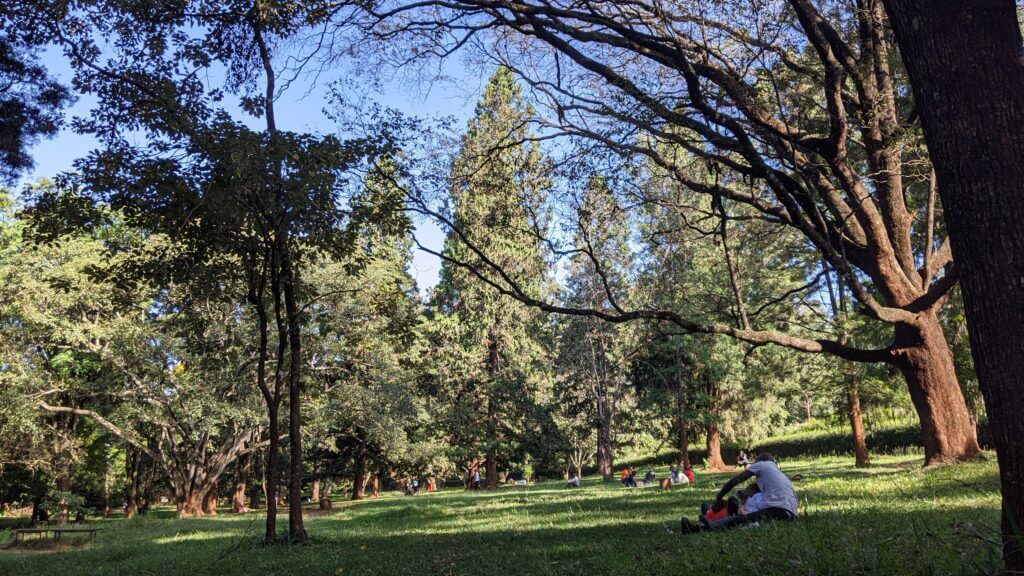 The facility was established in 1907 by Mr. Battiscombe, and later in 1932, the place was gazetted as a national reserve.
It features different species of indigenous trees as well as different plants and flowers. Enjoy bird-watching activities with the hundreds of different birds that flock to the place. Occasionally, you can spot monkeys hopping around the park.
The place is very ideal for group therapy, seminars and team-building activities. Looking to bond with family and friends? This is the perfect place, you only need to carry packed lunch, a few drinks, and you're good to go.
A jogging trail as well as shaded walking areas are available if you're looking to physically engage or burn some calories.
Don't be surprised to see church-related activities such as prayers being carried out, you could even join and make some new acquaintances.
2. Yaya Centre
Want to get that 'shop till you drop experience?' then look no further. Yaya Centre, located along the Argwings Kodhek Road is your go-to place.
Think of every kind of stall you'd want to get into; clothes, shoes, electronics, gift shops, bookshops, beauty parlours, the list is endless.
Supermarkets are in plenty for you to do easy shopping, and there's a FoodPlus chain to cater for your dietary needs.
Need to indulge in some good food, try the Sierra Lounge found on the third floor, especially their steak, you will be left craving for more. The restaurant specializes in foreign cuisines as well, so feel free to indulge in new dishes.
Now, what's a good day without some good wine to go with it? The Haven Wine store offers brands of wine from all over the world, so this is your opportunity to try out those luxury brands you have been craving.
Security at the mall is tight, so you need not worry about your safety, and the parking facilities are ample. So get on with it, and shop till you drop!
3. Uhuru Park
This has to be one of the most common recreational centres in Nairobi, and is located adjacent to the Nairobi CBD. For only Ksh. 100 for adults and Ksh. 50 for children, fun seekers get to enjoy serenity and ambience amid the city's beautiful buildings.
The park was opened to the public in 1969 by Mzee Jomo Kenyatta and recommissioned in 2021 by former President Uhuru Kenyatta.
Lately, the place has been undergoing renovations, and the developments add to the beauty of the place.
Monuments of prominent figures and freedom fighters have been erected in the park, and there's a freedom corner to commemorate Wangari Maathai's efforts in environmental conservation.
An artificial lake is also present, so guests get to enjoy boat rides at a small fee. Other activities such as cycling and skating can be undertaken in the vast park.
A well-maintained garden is available for solo walks, picnics or team-building activities.
Ever tried camel riding before? This is the golden opportunity to experience the thrill of it.
4. Ankole Grill
A good day is never complete without some good food to get you through, and what better place to dine in, other than the Ankole Grill?
Named after the Ankole cattle, a common East African breed of cows, the restaurant specializes in local delicacies, and you just have to try their steak if you're hoping to have your taste buds blown away.
African dishes including Nigerian and Ghanaian specialities are also made, accompanied by different kinds of salads to spice your meal up.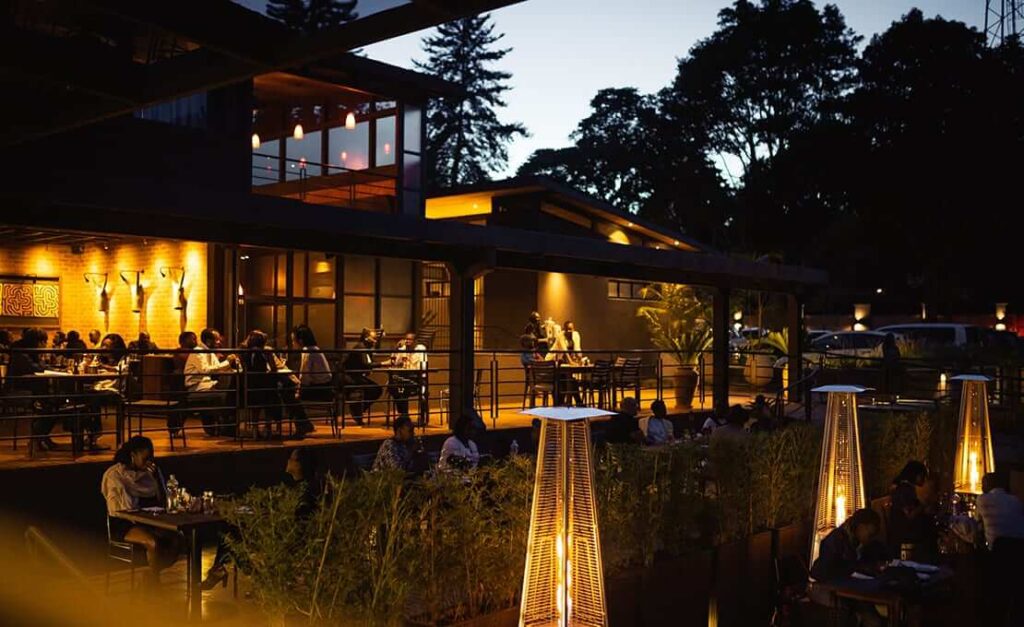 The place is open daily at 7.30 a.m and closes at 7.00 in the evening. However, it would be best to call and make a reservation before heading there, to avoid hitches.
They offer delivery services to far away customers at a small fee, so feel free to make your order within their time frame.
Drinks are also served as accompaniments, either fresh fruit juices, cocktails, milkshakes and even smoothies, all at relatively affordable prices. Want to indulge in something boozy? You will be spoilt for choice with their varieties.
5. The Maasai Market
Named after the Maasai tribe, a group of plain nilotes common in East Africa, this market is a melting point of cultural diversity that tourists from all over the world flock to the place to get a glimpse of it.
Interestingly, the market does not have a specific location but moves around Nairobi's CBD every day of the week.
However, the most common spot is near the High Court parking, just behind the iconic Hilton hotel, so feel free to pass by and check out their products.
They make a stop at Yaya Center on most Tuesdays, so when they do, rush there and grab the best wares you can get around.
They specialize in African prints, mostly selling beaded jewellery like bracelets, necklaces and basically anything else that can be beaded. Eye-catching attires such as shirts, dresses and trousers bearing African prints are also sold.
Looking for an enticing way to furnish your house? Get local paintings, wall hangings and wood carvings from the very skilled artisans in the market.
This would also be the perfect location to collect souvenirs and status reminders if you happen to be on a tour. The prices for all these products are relatively affordable, but feel free to heavily tip the traders for their exemplary work.
6. Kulture Lounge
Nights out have never looked this good, so if you are looking to spice up your evenings by hanging out and vibing to some good music, this is the place to be.
Well known for its grandeur, top-tier servicing and hospitable staff, your visit will be nothing short of epic.
Indulge in your favourite drink, alcoholic or not, though this might be your moment to try out something new.
Different foods are offered at affordable prices, so you need not neglect your dietary needs. As the night goes by, the DJ will have you grinding on the dance floor, so bring your dancing shoes with you and your best moves as well.
Occasionally, guest artists/musicians are called upon to entertain revellers, you will be in for a real treat with this.
7. Jamia Mosque
The Jamia Mosque, founded in 1902 by Syed Maulana is an iconic building, not to mention its architectural elegance.
It is among the biggest and most prominent mosques in Kenya and serves Muslim faithful from all over the country.
At the entrance to the mosque, and during guided walks through the property, guides give information about the place to interested people, and then usher them into the building.
If you subscribe to the Muslim religion, feel free to get in and make a prayer, or simply admire the masterpiece.
8. Tric Gaming Café
Are you around town and looking to pass time doing something engaging? Then try this gaming café located only a few minutes away from Kilimani.
The gaming café has to be one of the most popular in and around town. Well known for its top-tier services, the café has every kind of video game you would wish to try, including FIFA.
A game of FIFA costs Ksh. 200 per hour on weekdays, and they occasionally have discounts on weekends, charging only Ksh. 100 per hour.
The cubicles are spotlessly clean, and so is the entire café to ensure your well-being and comfort. You will be amazed at how quickly you can make acquaintances at the place, since everyone is friendly, and we know there's no better way to bond other than through a good game.
If you are willing to leave the CBD, Karen is only 30 minutes away, while Athi River and Rongai are alternative locations to have fun and relax away from the chaos of the city centre.