Loosely translated to mean 'Old plains,' Ongata Rongai is a small town about 17 kilometres south of Nairobi, in Kajiado north area of Kajiado County.
It started off as a cattle market and quarry area but has grown over the years and is among the country's most populated urban centres.
It is hailed as one of Nairobi's metropolitan areas and has a population of roughly 170,000 people.
Rongai is largely a residential area, although it boasts spectacular places to visit at cost-friendly prices, whether you are looking for an outing space ideal for a family, a group retreat or a solo date, the list of places to stop by is endless.
Depending on your location, you can get to Rongai via air, using the Wilson airport only 17 kilometres away, or simply drive to the place and engage in sightseeing activities along the way.
Below is the list of places to visit and the respective activities to engage in while in Rongai
1. Asyana Gardens
As the name suggests, the place is an outdoor kind of setting, consisting of lush gardens and well-trimmed lawns.
Located along Nosim road next to CITAM church, the resort offers a serene environment, away from the chaos and deafening noises of urbanization.
The whole setting and aura is perfect for a family outing or a weekend getaway. The moment you walk in, hospitable and respectful staff will be at your side, offering to help with anything.
With the blazing sun hot on your head, the pool will just come in handy by helping you cool down.
After this, retreat to the outdoor dining area and prepare to have your taste buds blown off by the sumptuous meals offered, both local and exotic cuisines, made by the best hands.
If you happen to tag a young one with you, they will be distracted by the amusement park, so you get to have some personal time.
You can also learn new skills here such as bicycle riding, basketball and even archery.
Accommodation is offered in single, double, deluxe and family suites, all lavishly furnished and fully air-conditioned, overlooking the lush gardens.
The gardens can also be hired for events such as wedding receptions and graduation parties.
The facility is an alcohol-free zone, so those who like to indulge might have to sit this one out.
2. Masai lodge
Strategically located to overlook the nearby Mbagathi river, the Masai lodge is the perfect retreat haven if you are looking for high-level tranquillity and beautiful scenery away from the noise and large crowds.
The temperatures in Rongai can get really hot, especially during the day, and what you need is a good swim.
The facility perfectly understands this and there is an outdoor pool overlooking the green scenery.
Soak in the rays of the sun by the pool as you sip an ice-cold drink, but do not forget your sunscreen and a pair of sunglasses.
Choose a sumptuous meal from their long list of local delicacies, you even get spoilt for choice.
Being in Kajiado county, you might want to try their meat, whether grilled or fried, it gives a whole new meaning to the word prowess.
A children's play area is also present, so feel free to tag the young ones with you for a good time.
Accommodation is also offered from around 100 USD a night, with rooms giving you epic views of the well-lit city.
Room service is 24/7, Wi-Fi is available, and the parking facilities are ample, the only thing you need to do is have a good time.
3. David Sheldrick Wildlife Trust
The facility was founded by Daphne Sheldrick, wife of David Sheldrick, one of the founders of the Tsavo National Park and is located right inside the Nairobi National Park.
The facility is thus named after her husband and is where humanity meets wildlife, as the place aims to protect orphaned baby elephants.
After Daphne's demise, the sanctuary has continued to be in operation, and guests come from far and beyond to see the young calves.
Apart from caring for young elephants, the facility also takes care of orphaned rhinos, one of the most endangered species that are on the brink of extinction due to poaching.
The animals are well cared for, with each animal having a keeper, and when they come of age, they are transferred to Tsavo National Park.
The place is only open to visitors for an hour only during the day, strictly between 11.00a.m and 12.00 p.m, and only with prior booking. The entrance fee is 15 USD for adults and 5 USD for children under twelve.
Once inside, you can have the keepers explain in detail the history of each animal.
They are afterwards brought to play, and guests are allowed to take photos.
4. Giraffe Center
Located along Duma road, this centre was purposely started to protect the giraffe, which does so much in adding to the wildlife heritage of the country.
The entry fee ranges from between 4 and 15 USD, depending on your area of residency and age.
The endangered Rothschild giraffe is especially found here, and you will be intrigued by how tall and massive the animals are, especially up close.
Feeding the giraffes is allowed, although under strict instructions and very close supervision.
You are allowed to pet the animals and take as many photos as you would like, so be sure to have a good camera with you and stock up on those memories.
The wardens will give you details about the history of the animals and their characteristics, so feel free to ask questions.
A gift shop is located within, selling different wares such as t-shirts for you to take home as the perfect souvenirs. All their products are sold to guests at cost-friendly prices.
5. Rolf's Place
Set out like a jewel in the middle of lush green scenery overlooking the city, Rolf's Place is the perfect place to retreat if you are looking for a weekend getaway, filled with sumptuous meals, tranquillity and top-tier services.
The whole setting is especially ideal for family outings or group retreats. The place has been built like a mansion and actually resembles a fortress of sorts.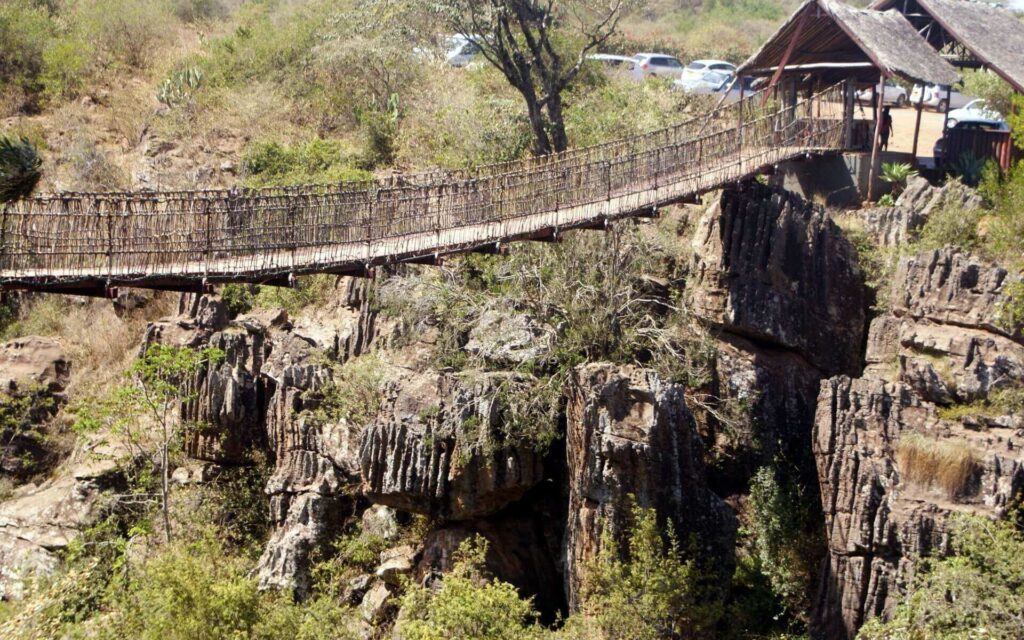 To access the facility, you have to walk over a suspension bridge overlooking a deep gorge that separates the facility from the Nairobi National Park.
Walking on the bridge as it sways side to side is simply part of the thrill. On entering the facility, the sight that greets you is one that oozes splendour if not luxury.
A swimming pool is available, though concerns were raised about there not being clear distinctions between the shallow and deep ends, and the children might even drown, so exercise caution.
Sample different delicacies such as freshly grilled nyama choma which will instantly spice up your day.
Retreat to the lounge to indulge in your favourite drink and simply enjoy the cool breeze.
6. AIC Diguna
At this church, located along the Maasai Lodge road, near Africa Nazarene University, engage in this extreme sport, the famous Diguna high ropes challenge for only 2 USD per person and 18 USD for a group of 12.
The activity will not only challenge your wit, but also thrill you to the core and have you fit. The ropes are suspended high, and gamers have to walk and get through the obstacles.
It is compared to playing the Ninja turtle. The ropes are tightly harnessed around your waist and hips, so you need not worry about missing a step and tumbling down.
If you have a height phobia, this might be your chance to face your fears. The ropes are of different heights, and the higher you choose to go, the more spectacular views you get to have, especially of the nearby Ngong Hills, so let the adventure begin!
7. Silole Sanctuary
This is another wildlife habitat that is an extension of the Nairobi National Park.
Overlooking the Mbagathi river, the sanctuary is an oasis of beauty with the green scenery and wild animals that inhabit it.
At the entrance, you meet quite a sight with a bunch of apes, mostly baboons walking around, adding to the whole nature vibe of the place.
You definitely need to go on a safari tour and get thrilled by seeing hundreds of animals; lions, rhinos, elephants, gazelles and zebras in proximity.
Go on nature trails and gain insights about diverse plant types and even engage in bird watching.
Located within the sanctuary is a cottage that can house 4-6 people, and what better way to sleep and get up other than in the middle of nature, with the only thing filling the silence is the rustling of leaves and the soft swaying of trees, so if you are looking for accommodation facilities for a group setting, then look no further.