Over the years after independence, Nairobi, and largely Kenya, has become a home to Indian expatriates who relocate to the country for either personal or business reasons.
Over time, they end up settling in different parts of the country, bringing their beautiful culture with them, from modes of dressing to music and their traditional food.
Several restaurants serving Indian cuisine have been set up, seeking to give locals a taste of their famous recipes. Below is a list of the best Indian restaurants in Nairobi;
1. Mayura Restaurant
True to their mantra; a modern Indian experience, The Mayura Restaurant is one of the first pioneer restaurants to serve Indian cuisine in Kenya.
They are located at both Kenrail Towers in Westlands and the Hub Mall in Karen.
Enjoy savoury dishes such as tandoori chicken wings and reshami kebabs that will leave you craving more.
All their dishes are sold at friendly prices, with occasional offers on selected meals. Soft drinks are also available, and a wide range of desserts.
2. Clay Oven restaurant
If you're looking for a fancy place to indulge in your food adventure, then Clay Oven is your go-to place.
Located in Fuji Plaza along Waiyaki Way, the restaurant has been operational since 2014 and has gained a reputation for its exemplary services.
The staff comprises both Indians and locals, looking to give you the best culinary services.
Indulge in dishes such as mutton biryani and their tikka specialities such as jeera murg and murg burra, then follow it with your drink of choice.
They open daily at 10.00 a.m and close at 10.00 p.m
3. Haandi restaurant
With footprints not only in the country but major towns around the world, Haandi is a leading restaurant that serves the best of Indian cuisines. It is located at the Mall along Waiyaki Way.
Get that cosy feeling with their alluring decor and soothing Indian music playing in the background.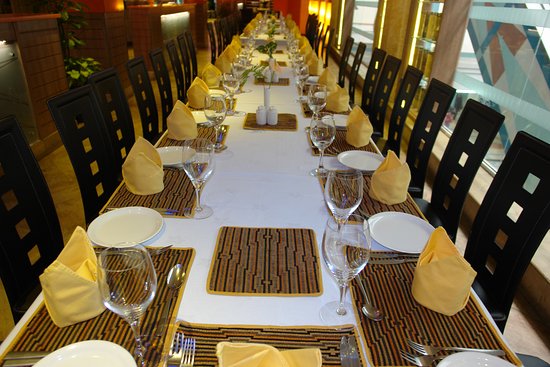 Their menu is detailed with snacks, main meals and drinks, all at pocket-friendly prices.
They also have a banquet hall that is available for hire, for private events. They open daily at 11.00 a.m and close at 10.00 pm
4. Open House Restaurant
This is another pioneer Indian restaurant in Nairobi, with branches in both Westlands and Karen.
With their wide selection of Punjabi, Mogul, Tandoor and Mumbai cuisines, they aim for consistency and quality.
They have friendly staff who are on standby, ready to take your order. They specialize in starters such as fried prawns, mushroom specials and chicken wings.
The main meals will not disappoint either, with a wide variety to choose from. The restaurant is available for both dine-in and takeaway services.
5. Anghiti Restaurant
Anghiti is a traditional Indian oven used for cooking. This restaurant, situated in Homes Universal Limited, Rhapta Road in Westlands seeks to live up to its legacy, by offering guests top-tier services and tantalizing meals.
You might want to try their speciality of murg malai kebab; a really savoury dish laden with different spices, along with jalfrezi vegetables.
If you are a vegetarian, they have a wide array of dishes just for you.
They are open daily from 12.00 pm to 9.00 at night and offer both dine-in, takeaway and doorstep delivery services.
6. Red Ginger
Situated at the heart of the Parklands area, Red Ginger is a modern dining facility that specializes in different cuisines, among them Indian dishes.
The set-up will instantly put you at ease with soothing music playing in the background, and staff to show you to your seat.
They have a wide array of starters to kickstart your food adventure, followed by the most delicious main meals, and desserts to top it up. Vegetarian and kids meals are included in their menu. They are open daily from 11.00 a.m to 11.00 at night.
7. Maharaja Restaurant
If you're looking for a place serving exclusive vegan and vegetarian Indian dishes, the Maharaja Restaurant located along Shivachi Road, opposite Mp-Shah Hospital in Parklands, is your ideal location.
It is situated in a calm and relaxed space, giving you the environment you need to wind down with your loved ones.
Pick a delicacy from their menu, or await the chef's special meal that is made to your satisfaction.
Breakfast dishes, snacks and kid's meals are also present, all at very affordable prices. They are open from 10.00 am to 9.30 pm Monday to Saturday and from 8.30 am on Sundays.