Waiyaki Way is a major travel route connecting Nairobi to Kiambu County. It traverses major towns like Uthiru, Kinoo, Muthiga, Kangemi, Mlolongo, Mountain View and Westlands.
The route has rapidly grown over the years, leading to various establishments like apartments and businesses being set up.
Clubs, bars and lounges have been a part of this growth, well-serving the inhabitants of the surrounding areas and revellers who wish to make merry, not too far from the CBD.
Below is a list of popular 18+ entertainment joints in the area.
40Forty Lounge
Located in Stellato Mall, Westlands, this entertainment joint is a haven for revellers looking to wind down and have the ultimate nightlife experience.
In the middle of your shopping errands at the mall, stop by the lounge and grab a quick drink as you enjoy the calm aura of the place.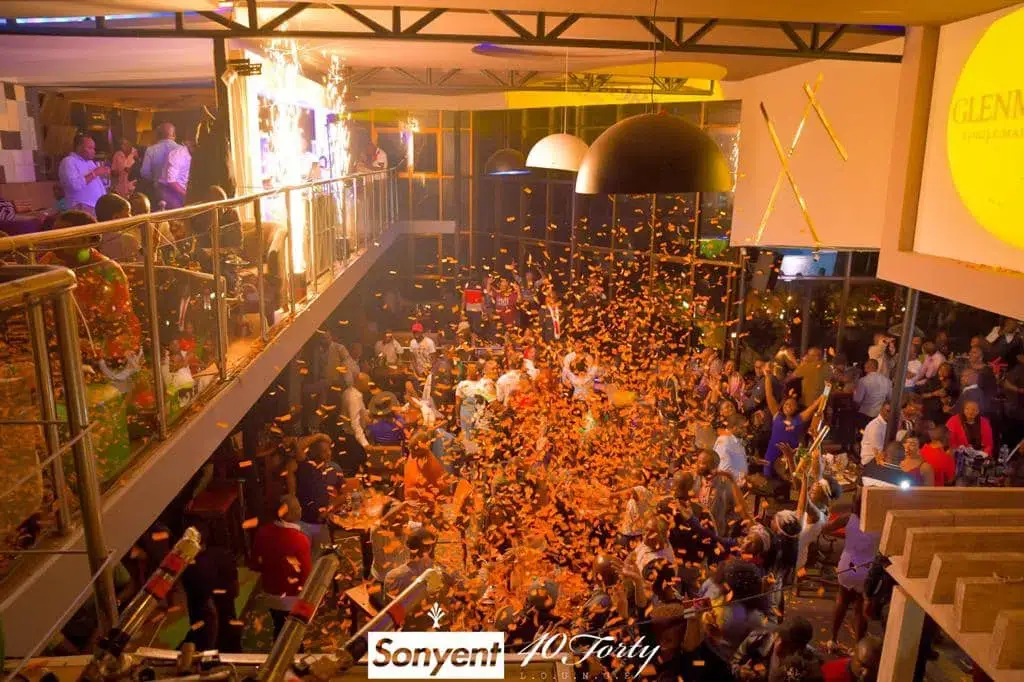 Looking to let loose after a long week? The facility has you covered with their wide array of drinks, all you need to do is choose.
Weekends are constantly a flurry of activities, try making a reservation earlier to avoid inconveniences.
If you are a music lover, then look no further; the resident DJ is available to blast the latest music jams to you.
Gallileo Club
Situated along Waiyaki Way, just before Westlands, this club is another popular stop for revellers looking to let loose and make merry.
Start off your night by indulging in different meat delicacies served in the grill area, and alongside different accompaniments.
Once you have the perfect foundation, proceed to the bar area, stocked with a variety of drinks, choose your speciality and sit in a comfortable spot as you slowly sip your drink.
Occasionally, the club features popular artists, so your night will be nothing short of entertaining. If you're a Mugithi lover (Kikuyu songs), the DJ's selection of the same will not disappoint you.
Mercury Lounge
Located near the ABC place, Westlands, along Waiyaki Way, Mercury Lounge offers you the perfect getaway if you fancy a not-so-crowded space for you to relax, let loose and wind down.
The whole aura at the facility offers you a calm and collected vibe. The place is occasionally frequented by celebrities as well.
Fancy yourself some cocktails? Relax and let the mixologists take care of you. Discounts on drinks are often offered, so you get to have fun without denting your pockets.
Weekends are a complete vibe with 'link up Saturdays' giving you the chance to make new friends. The place opens daily from 3.00 p.m till late.
Waiyaki Way Bar and Lounge
Located in Mountain View estate, the Waiyaki Way bar brings life to this vicinity with its wild parties at night.
There's no better way to begin your night other than indulging in delicacies, and this bar and lounge offers you a variety to choose from.
The bar area will further excite you with their wide array of drinks; gin, whiskey and beers.
As you sip your ice-cold drink, dance along to the latest jams; you should definitely bring your dancing shoes along.
Sleek Lounge
Located in Kabete, Waiyaki Way, the Sleek Lounge is strategically positioned along the way, so you can't miss it.
Make a stop while travelling, or simply visit the place to make merry and wind down.
Begin by indulging in their speciality of nyama choma (grilled meat) served alongside ugali and a side of salsa. Snacks like samosas and sausages are available as well.
Their bar area caters to your drink cravings with a variety to choose from; both alcoholic and non-alcoholic. You might also want to try out their cocktail drinks.
Exercise your vocal cords on karaoke Wednesdays as you sing out your favourite song.
Annex bar and grill
Located in Upper Kabete near the Kabete National Polytechnic, the Annex bar is a popular entertainment joint in the area, offering nothing short of hospitality and good entertainment to their visitors.
Begin by savouring different local delicacies; they have a variety to choose from.
The bar area has different drinks to sample from, giving you the chance to try something new.
As you while the night away, the DJ will keep you entertained with the latest songs.
Looking for a place to put up for the night? This facility offers you spacious and clean rooms at an affordable fee.
Club Hypnotica
Well known for its wild parties and huge crowds, this club, located in Westlands, is your go-to place if you fancy yourself some hype.
Craving some tasty delicacies? Sit back and let the chefs blow your taste buds away with their exemplary services.
They further have discounts and offers; when you buy a bucket of beer you get a kilogram of meat for free, buy two cocktails and get the third free of charge.
The resident DJ alongside renowned music artists is available to take the entertainment scene to another level.