Limuru is a small town in Kiambu County, in Nairobi's outskirts, and is characterized by green scenery, fresh crisp air and wintry weather.
Being a steady distance from Nairobi, corporate setups are opting to take their employees to Limuru for team-building activities, hoping to give them a city break.
The activities are mainly aimed at enhancing skills needed at places of work such as effective communication, problem-solving, critical thinking and team spirit, and are also a good way of breaking monotony.
Below is a list of the most common team-building venues in the area.
1. Oak Ridge Gardens
If you and your team are looking for an executive venue with well-maintained facilities, spacious premises and hospitable staff, these gardens are your go-to place.
Situated in the middle of a forest, go about your activities without noise interruptions.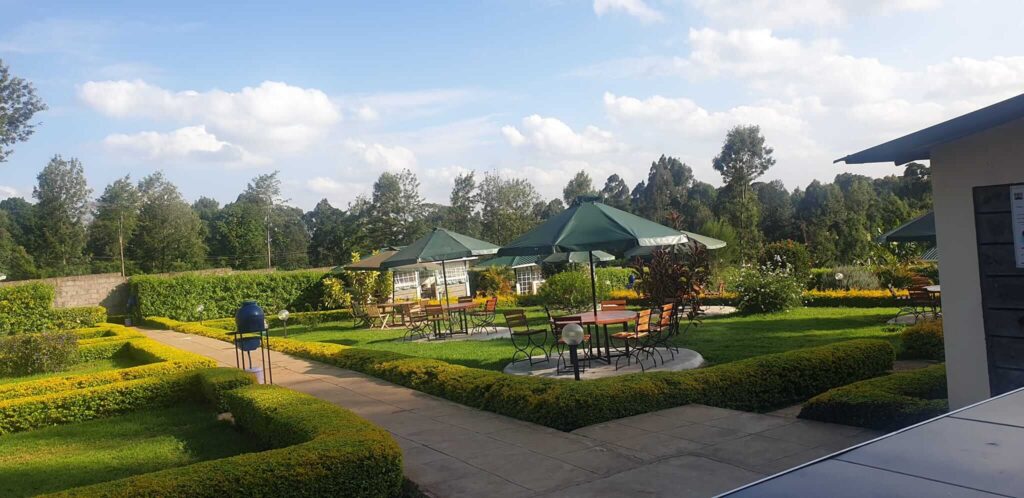 Facilitators to guide you through activities suited to meet your objectives are available.
At the expansive gardens, engage in sports such as ball games, circle games, races, scavenger hunts and more.
Have conversations while sitting at the heart of nature and get to know your colleagues better.
2. Brackenhurst Conference and Retreat Centre
Located in Tigoni, Brackenhurst is a modern four-star facility that will do more than meet your team's objectives for team building.
From expansive lawns and lush gardens to spacious fields right at the heart of nature, engage in different activities to hone different skills.
A basketball court is available, and so is a golf area and a football field where you can partake in those games to enhance team spirit.
Bikes are available for hire for your colleagues to engage in races.
At night, watch the lawn come to life with the most enticing lighting, where you can sit and engage in conversations with your coworkers.
3. Thayu Farm Hotel
If you're looking for an ambient place, guaranteed to give you value for money, Thayu Farm Hotel located along the Tigoni-Kabuku road is your go-to place.
The facility has a vast conference centre where your team can undergo training to hone different skills needed at work.
Thereafter, the expansive garden will cater to outdoor activities like ball games, scavenger hunts and even picnics to strengthen the bond.
They further have cottages spacious enough for indoor activities like board games and charades.
4. Jumuia Conference Centre
This state-of-the-art facility is well known for its exemplary services, and team-building activities would surely thrive here.
Trainers, well-equipped with knowledge in different areas, will help sharpen existing skills and teach new ones like management, organization, technological skills and more.
For limitless outdoor activities that are not only fun but will enhance the spirit of teamwork, the spacious fields are available for sports and games.
There's an outdoor dining area where you can indulge in delicacies while conversing with your colleagues.
Group nature trails through the premises can be undertaken, which is a good way to enhance relations among you.
5. Limuru Country Club
For an exquisite experience in a facility that exudes grandeur and pomp, Limuru Country Club will not disappoint.
Well-mowed lawns are available for a wide range of outdoor activities.
Try out games like cricket, golf, lawn bowling and tennis on the gaming court; all of which will improve team spirit amongst your coworkers.
Engage in water games like swimming competitions and water ball tossing at the pool, and thereafter, enjoy mouthwatering delicacies with your colleagues at the outdoor dining area.
6. Dam Redhill Resort
If you and your team are looking for a facility to engage in unlimited outdoor activities that are not only thrilling but will enhance team spirit amongst you, this resort tops your list.
Located in Limuru town, you're guaranteed nothing but value for money. Go on a boat excursion through the dam with your team, and try out fishing expeditions, quite a fun spot.
A zipline is also available at the resort. Engage in bike races through the fields, and try sports like human knotting and ball games.
7. Eva's Garden
Located in Limuru town along St. Julian's road, this splendid facility, characterized by well-mowed lawns, expansive gardens, an artificial dam and the fresh crisp air is perfect for team building activities.
A group excursion to the nearby Buxton tunnel will give you the chance to bond with your colleagues.
Facilitators are available to take you through rigorous exercises that will hone different skills in you.
For indoor activities, the vast conference centre is available.