Managed by the Ngare Ndare Forest Trust, this forest, located in Timau, Meru, at the foot of Mount Kenya, is a true epitome of beauty, defined by jungle green scenery that stretches for acres, creating quite a breathtaking view.
Raging waterfalls and seasonal rivers are located within the forest, making it the perfect destination if you wish to have an inbound interaction with nature.
Hundreds of bird species have formed a habitat, and the various plant types are also a sight to behold, you'll be in for a real treat.
Below is a list of activities to take on while at Ngare Ndare;
Canopy Walking
The longest and highest canopy walk in East Africa can be found in this forest, giving you the chance to experience a thrill like no other.
The length and height of the canopy, 450 m and ten meters respectively, further spices up your walking experience, and also gives you the chance to face your height phobias.
From high up, suspended in the air, you're treated to stunning views below of the vast green surroundings and azure pools.
At dusk, the gleaming sunset is sure to take your breath away. The orange horizon meeting the blue colour of the pools is a remarkable sight.
Swimming
In the glaring heat, nothing steadies you better than a good dip.
The Ngare Ndare Forest is home to seven waterfalls, and both locals and visitors prefer to take a dip in the pools there; being in a normal pool is nothing like the experience you get here.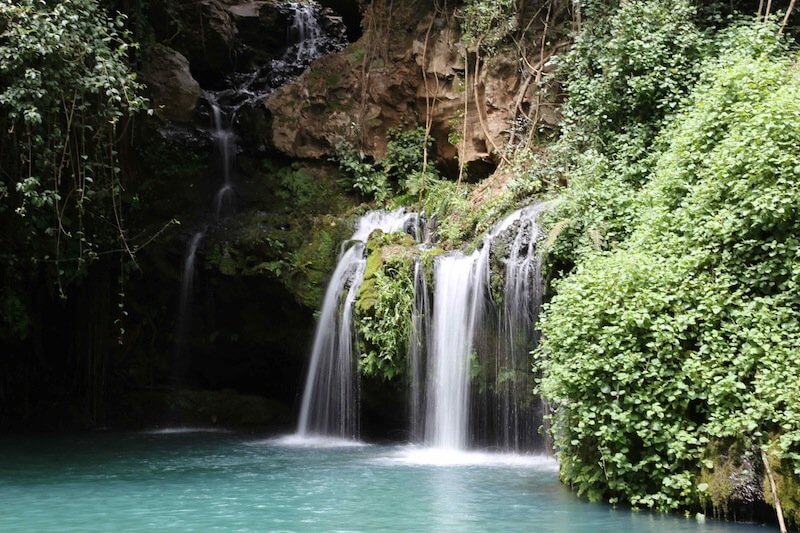 After swimming to your fill, briskly bask in the warm sun, getting that tan you long for.
While soaking in the sun's rays, order a tasty delicacy at the nearby restaurants, and get an ice-cold drink to wash down the meal.
Nature walking
If you're looking to intensively explore the vast Ngare Ndare Forest, you might want to take a walk through it.
Once you arrive, a guide well-versed with the surrounding areas will be assigned to take you through the tour.
Along the way, get to sample different plant species and flowers, while breathing in the much-needed fresh and clean air.
Along the trails, you're likely to stumble upon different animals like buffalos or a herd of elephants, topping up your experience.
Engage in bird-watching activities with the different species found in the forest.
Camping
An occasional retreat from the daily chaos of life is bound to do anyone some good.
Camping offers you the chance for either introspection or spending alone time with your family or loved ones.
At the Ngare Ndare Forest, the provision for the same is offered. Security is tight, and guards are constantly on patrol, so you need not worry about security.
You can make your own meals by lighting a fire, or have something prepared for you at available restaurants.
Light a bonfire and give stories while enjoying the warmth, and afterwards, fall asleep staring at the bare sky. The camping fee for adults is Ksh. 3000 and Ksh. 1500 for children
Hiking and canyoning
The terrain in the forest consists of steep hills and jagged rocks, making it a perfect location for hiking activities, which is not only a good way to let loose but a healthy way of exercising as well.
A guide will be assigned to you should you need help climbing the rocks.
If you fancy some little adrenaline? Try canyoning in the forest. The activity involves a series of outdoor activities like jumping and rope work.
All these activities will help you flex your muscles and rejuvenate your mind.
Picnicking
An outing in the countryside, in a space full of nothing but serenity and clean air, is an unrivalled way to spend time with your loved ones.
At Ngare Ndare, you can have a picnic for an unlimited amount of time, and if you fancy some solo time, you can have all the privacy you need in the expansive forest.
Carry your packed lunch or choose to dine in the nearby restaurants that serve tasty delicacies.
Afterwards, you could take a stroll or simply choose to sit and admire the scenery. The place is also great for photo sessions.
Bike riding
Looking for a fun way of touring the forest? Try bike riding. This way, you can tour as many trails as possible.
It is also a healthy way to stretch your muscles.
Visitors can carry their own bikes or hire one at the facility for a small fee.
To make your experience more thrilling, engage in races with your friends or family.
Make stops along the way to enjoy the stunning scenery and catch your breath.