About 108 kilometres south of Nairobi, in the laid-back parts of Kajiado, lies this oasis of beauty, stretching to about 35 kilometres in width, covered in pink waters and forming a most spectacular view for sore eyes.
The pink hue is due to the presence of naturally present chemicals and minerals in the water.
The lake is, without a doubt, one of the most unexplored places in Kenya, yet it has so much to offer in terms of breathtaking scenery.
The kind of aura in the area, with little or no crowds, is ideal for weekend getaways or if you are feeling burnt out and are looking for an out-of-town kind of trip.
Group retreats, couples getaways and solo trips would thrive here, you just need to know where to look.
There is an airstrip in Magadi town if you choose to travel via air, though a road trip would definitely spice up your tour with the beautiful sights to behold along the way.
The roads get bumpy as you delve deeper into the Kajiado vast lands so be sure to have a steady ride with you, to avoid inconveniences.
The area around the lake is inhabited by the Maasais and interacting with them will give you insights into their beautiful culture.
Below is a list of activities to engage in once you get to Lake Magadi.
1. Skinny-dip at the hot springs
Swimming in the naturally heated thermal pool tops the list of your to-do activities.
This is best done in the morning before the scorching sun rears its head, making it virtually impossible to stay in the water.
The springs especially come in handy in wintry kind of weather, since the springs never get cold. Add that to your list of wonders of the world.
Ever heard of fish pedicures? This is where fish help in exfoliating your feet by feeding on the dead skin.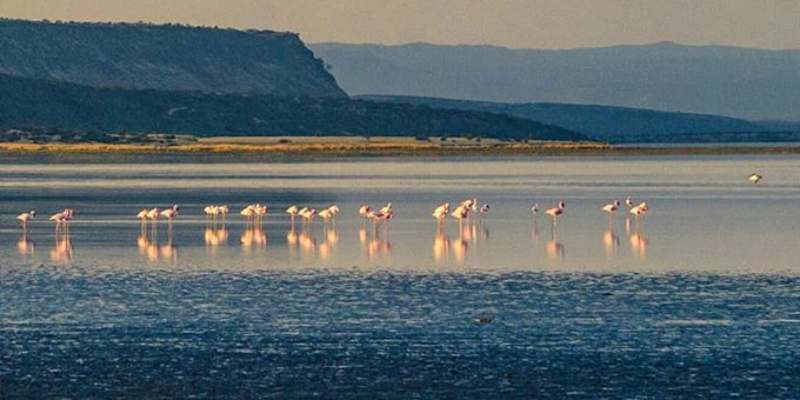 If you can stand the ticklish feeling at the beginning, you will be in for a treat, and your feet will look as fresh as a daisy.
The salinity of the water does not allow the presence of fish, except this one rare breed found in the cooler parts of the lake.
Visiting the hot springs just gives you a great deal since you save on money that you would have spent on saunas and pedicures, yet here you get all that for next to nothing.
It is highly advisable to hydrate before skinny-dipping as the springs might leave you severely drained.
The entrance to Lake Magadi for citizens is 5 USD for adults and 3 USD for children, and 10 USD for adults and 5 for children for non-citizens. You will also pay an extra fee for private vehicles to gain access.
2. Engage in bird and wildlife watching
There is something quite intriguing about watching birds wading through water in their large flocks, in all sizes, shapes and colours, painting the water in different shades and creating the most beautiful scenery.
Flamingos are the most dominant in the area, though, during the migration season, the water gets infested with hundreds of other breeds such as pelicans, hornbills and marabou stocks.
Watch them swimming and playing in the water, with the only noise filling your ears being the ruffling of feathers.
Within the conservancy are larger animals like antelopes, zebras, giraffes, monkeys and baboons that add a whole nature outlook to the place.
On occasion, you might spot herds of lions, rhinos or elephants. To see these animals in their most natural habitat, go on a safari tour, best done in the early mornings before they set out to hunt for food, or get hunted.
However, it is important to note that the conservancy is mainly a haven for scenic views and bird watching, and animals do not frequent the place.
3. Visit the Olorgesailie Prehistoric Site
This is the perfect chance for you to increase your knowledge of history and early man.
Often hailed as the cradle of mankind, the prehistoric site bears fossils that tell an intricate story about the evolution of man, dating back to more than 10 thousand years ago.
The remains, mostly skulls, are from the Acheulean period, mostly characterized by stone tools such as hand axes.
The multilingual guides are well-versed in history and will take you through an educational tour, explaining the use of each artefact.
Go on nature trails within the museum and get awed by the beautiful landscape.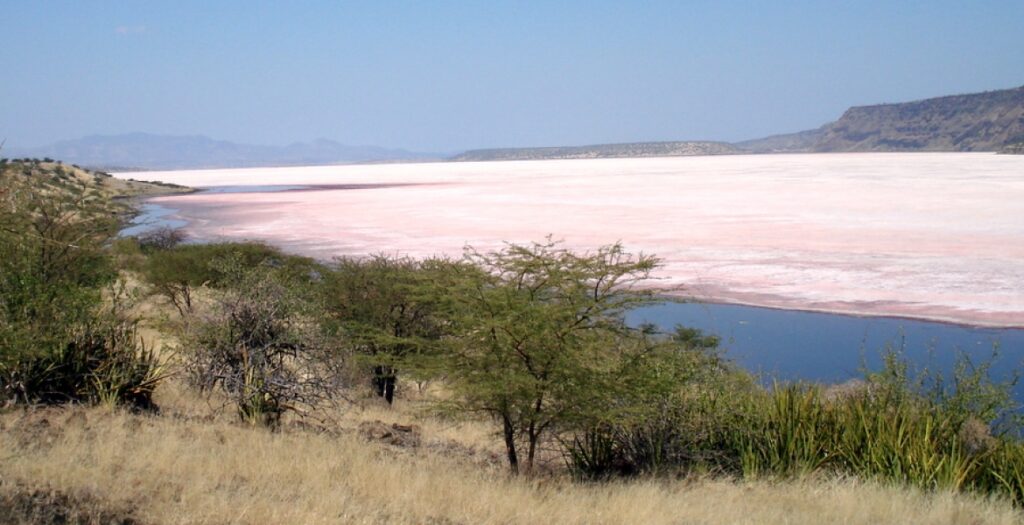 Hiking expeditions would thrive in the nearby Mount Olorgesailie so if you are looking for that adrenaline rush, bring the right footwear and get on with it, though it takes a staggering three hours to get on top, and another three to come down so make sure you are well geared for this.
A picnic site where you can sit and enjoy the beauty of nature, or simply get lost in your thoughts is located within, you might as well bring a packed lunch.
Every evening, baboons converge near the site, and what better way to spend your evening other than watching the apes do what they do best?
4. Interact with the local community
The Maasais, a subtribe of the Plain Nilotes inhabit most of the land near Lake Magadi and the larger Kajiado area.
Such ardent holders of their culture, interacting with them will give you a whole new perspective and make you fall in love with their way of life.
They stay in makeshift structures called manyattas that seem to withstand the test of time, you might even get tempted to build yourself one.
They practice pastoralism and hold cattle in high regard, moving from place to place in search of pasture.
Their language sounds like music to the ears, so make sure to learn a new word, if not the classic greeting, 'Ero Supai,' to mean, 'How are you?'
Meal times are a blaze, with their speciality being meat cooked in herbs, simple yet very astringent.
Watching them dance is bound to entertain you, especially with their quintessential high jump.
If not for anything but the goodness of the heart, buy some of their wares like jewellery, coloured shukas, bracelets and beaded belts to take home, they form the perfect status reminders.
5. Put up at the Lake Magadi Sports Club
After enjoying the scenic views and breathtaking landscapes, retreat to this club for more thrilling activities.
This is the only facility in the vicinity that offers accommodation and meals to guests who visit the lake.
The biggest attraction in the facility is the massive pool, which you are going to need when the temperatures shoot during the day, to as high as 40 degrees. The swimming charge is only 5 USD per person.
A kids-sized pool is also available, complete with lifeguards, so your little ones do not get into any trouble.
We all know that a trip is never complete without a good meal, and the sports club understands this perfectly.
The food served in both buffet and À la carte style is tastefully made to leave you craving for more.
Accommodation is offered in tents, well furnished to give both a homely and oriental kind of feeling. The tents, going for about 90 USD depending on the size, are complete with amenities such as shower heads, and toiletries.
Indulge in your favourite drink, found in the fully stocked bar, and sip this as you warm by the bonfire, listen to music and stare at the teeming waters.
6. Camp by the shores of Lake Magadi
In my opinion, sleeping in conventional rooms does not hold a candle to this.
Why not go for a bolder and wilder alternative like sleeping out on the lake's shore and spice up your tour?
All you need to get this going is your camping gear; sufficient bedding and a sleeping tent.
Don't forget essentials like antihistamines to ward off allergies from insect bites.
The conservancy near the lake has designated some safe spots where you can pitch your tent for a fee, where adults pay 15 USD and children 10 USD. To hire their tents incurs additional charges.
The security is tight, so you need not worry about stumbling upon a pack of menacing animals wanting to make a meal out of you.
The sheer tranquillity is to die for, quite the far cry from the noise that defines our daily lives, and the only noise that fills your night is the lapping of waves, chirping crickets and the occasional howling of animals in the distance.
Fall asleep staring at the moonlit sky, and the stars adding a whole other vibe, and wake up with scenic views from the water, a breathtaking landscape and chirping birds which is essentially music to anyone's ears.
Finally, if you are in the mood to explore more of the lakes in Kenya, Lakes Nakuru, Elementaita and Naivasha on the floor of the Rift Valley are must sees offering a wide range of activities to engage in.