Scenic views, pristine white sand beaches, palm trees, cool breezy air and good tides are the stuff of a good holiday.
If you are looking for all of the above in one place, then try holidaying in Bamburi. Found in the Mombasa suburbs, this town oozes nothing but grandeur and splendour.
There are a couple of ways to get to Bamburi, either through air, via the Moi International airport in Mombasa then driving to Bamburi, or using the standard gauge railway and getting off at the Mombasa terminus.
If you want a grand experience, then begin your tour with an epic road trip by driving to the place.
Along the way are some really good spots for sightseeing activities and scenic views for sore eyes.
Bamburi is a cosmopolitan area, inhabited by every kind of race and tribe, even foreign ex-pats, but the larger community is formed by the Swahilis.
Visiting the area allows you to gain insights into their intriguing culture and learn a thing or two.
Below is a list of places to visit and the respective activities to engage in when in Bamburi
Bamburi Beach
Any time spent in the coastal shoreline of Kenya would not be complete without a visit to the beach.
Simply staring at the azure blue waters and the lapping of waves is enough to calm even the most raging of minds.
Experience the thrill of swimming in the rushing waters, quite the far cry from swimming in an ordinary pool.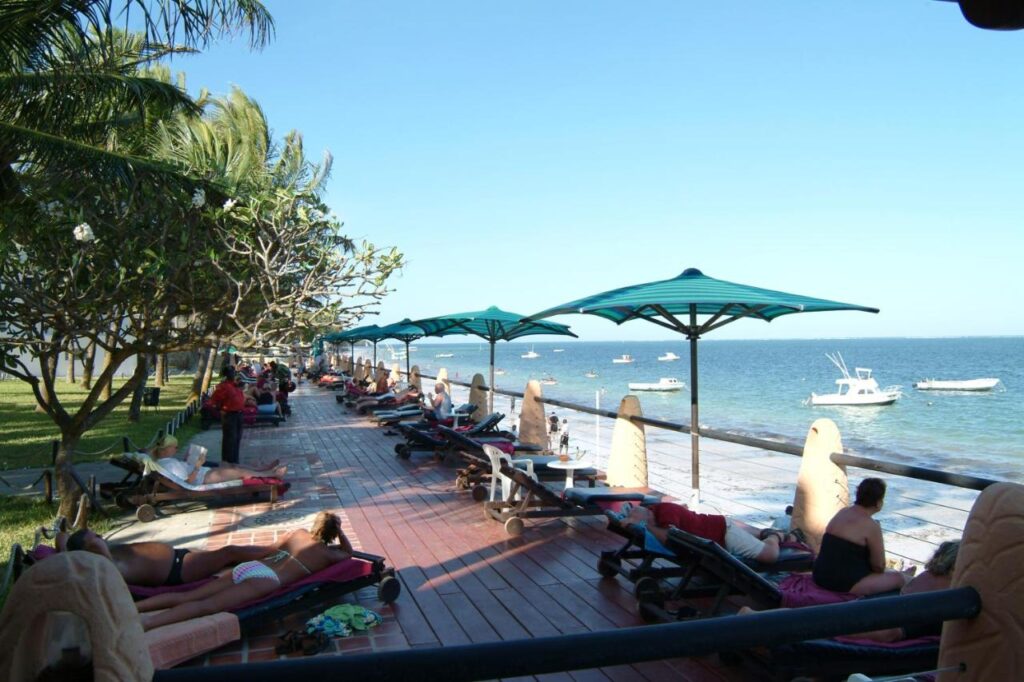 If you are a beginner or have not quite mastered the art of swimming, guides are readily available to train you and give you swimming gear to help you stay afloat.
After swimming your fill, dry up resting on the shores, soaking in the rays of the sun and getting that tan that you so desire, though you need loads of sunscreen for this.
So serene is the environment that you might have a nap lying on the sand. Sip an ice-cold drink staring at strollers on the beach, or simply get lost in your own world.
At dusk, take a rejuvenating evening stroll, breathing in the crisp cold air, and watching the swaying palm trees.
Interact with locals selling different crafts that might interest you. Get into local restaurants and indulge in different traditional delicacies and drinks, and finally climax your day by watching the sunset spread its golden rays over the blue waters, creating a breathtaking view, you might need a sundowner for this.
Nguuni Nature Sanctuary
The sanctuary which is about a ten-minute drive from the Bamburi cement factory is a haven where nature meets humanity.
The land, years back was in deplorable condition and bore no signs of animal habitation.
After a bit of revamping and deliberate effort, the place became home to different animal species and is still a work in progress.
The road to the place is treacherous, so you will need a good drive to avoid getting stuck.
Once you get there, you are rewarded with scenic nature views and hospitable staff.
Go on a game drive to interact with giraffes and ostriches up close and bring your camera with you.
Take nature walks through the trails, sampling different plant species and engage in bird-watching activities.
Picnics and group activities would best thrive here, so be sure to tag a team with you.
Barbecue is offered with an accompaniment of fries or ugali, though you could bring your food too.
The facility has a private garden where you can host different ceremonies such as grad parties, weddings and birthday ceremonies.
The entrance fee at the Nguuni Nature Conservancy is 3 USD and 8 USD for children and adults respectively.
Bamburi Beach Hotel
On the coast and looking to lavishly spend money and get value for it? Genuinely consider putting up at this state-of-the-art facility.
It is located near Bamburi beach, so you can get easy access to it whenever you want.
The rooms are well-positioned to ensure you wake up to breathtaking views of the blue waters.
The price range for the rooms is about 130 USD a night, inclusive of breakfast.
The rooms are lavishly decorated and well-aerated, just of the many things that the facility does right.
Room servicing is 24/7 in case you have those late-night emergencies that need help.
If you find the public beach too crowded, they have you covered with an outdoor pool where you can dive and cool down the humid temperatures.
When the hunger pangs set in, retreat to the Fisherman's Cave restaurant and indulge in different delicacies, both local and international cuisines.
If you like sampling new dishes, then try the seafood there, it is truly spectacular and will leave you craving for more.
A bar, fully stocked with drinks from the soft ones to the strongest is available so feel free to indulge in your speciality, even try something new, albeit responsibly.
Haller Park
Haller Park should definitely be on your list if you love interacting with flora and fauna. The park is home to hundreds of animal species.
At specific times of the day, you get to engage in animal feeding under close supervision.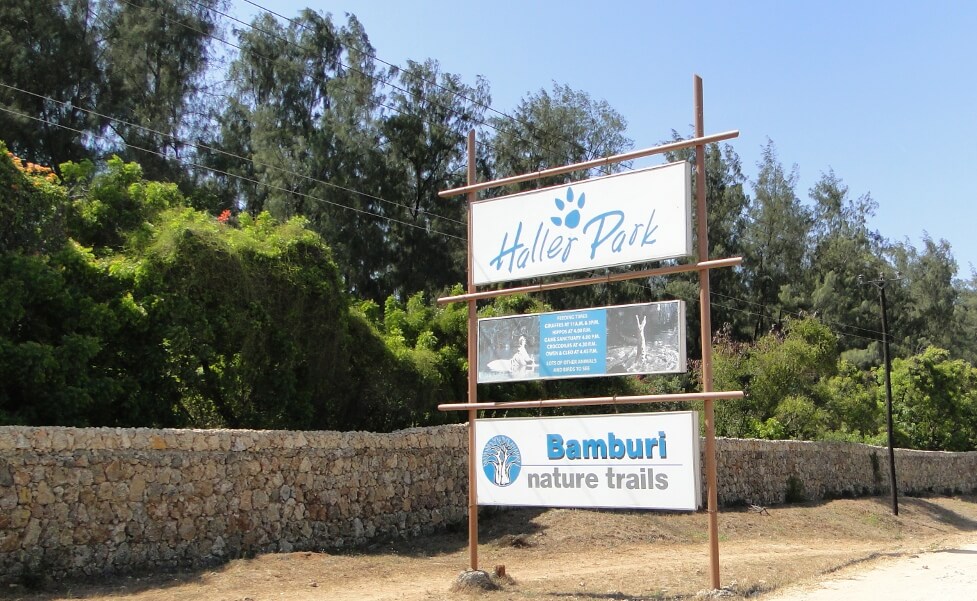 Giraffe feeding is usually first, and you might want to try it. Afterwards, go feed the hippos, it is truly thrilling.
There is a reptile park full of crocodiles that look both menacing and intriguing at the same time, and if you aren't threatened, you can feed them.
The butterfly pavilion is also found here, and you should stop by to learn about the life cycle of the insects.
Sit in the botanical garden and enjoy the breezy air as you look at different flowers and plant species.
Engage in bird-watching activities since the place is constantly flocked by different breeds, especially during the migration season.
Bamburi Nature Trail
If you are a nature lover and would like to physically engage, then try visiting the place.
Located opposite the Bamburi beach hotel, and right inside Haller Park, the nature trail is the ideal haven to get lost in the beauty of wildlife.
You can have the guides take you through, or simply go on a solo adventure. It is highly advised to book a spot in advance since the place can get overstretched with limited facilities.
Along the way, you get to see different animals such as dik-diks, monkeys and zebras.
Take breaks along the way to engage in bird-watching activities, seeing them flocking the sky is simply thrilling and listening to the chirping is truly music to the ears.
If you wish to burn some calories, try jungle jogging along the long trails. It is not only a good way to exercise but will help with your mental state as well.
Diva Jewels
Familiar with the phrase 'Shop till you drop?' This is the perfect spot to make use of that catchphrase, especially if Bamburi brings out the shopaholic in you.
The retail store, located at City mall, specializes in selling every kind of jewellery known to man; from earrings, necklaces, chains, and bracelets, the list is endless.
They also stock up on watches so feel free to accessorize as far as your pocket will allow you.
The jewels are made out of gold, diamond, pearls and any kind of gemstone known to man.
If you have been spoilt for choice about the kind of gift to give a loved one, the solution is right here.
If you are lucky, you might find some crazy offers and end up taking home your favourite piece bought at a huge bargain
Shots Bar
Going here once will have you hooked on the nightlife of the place. Located along Digo road, the place is literally full of energy that you will keep going back to.
If your version of letting loose is to indulge a little and dance the night away, then this is the go-to place.
As soon as dusk sets, the bar is crawling with people eager to spice things up.
The DJs do not disappoint, and are on their feet the whole night, giving you the ultimate entertainment experience by playing the latest songs that will have you jamming along, so bring your dancing shoes with you.
You could even put in a request and listen to your favourite song. After leaving all your energy on the dance floor, sit and order your favourite delicacy to regain that stamina back.
They mostly specialize in local delicacies such as pilau and biryani, traditionally cooked and made by the best hands.
Afterwards, feel free to indulge in any drink of your choice, all at friendly prices.
Enjoy the night away simply by vibing to good music and engaging in conversations with the locals, you might even make new acquaintances.
Once you have had your fill of Bamburi, Malindi, Lamu and Watamu are only a short distance away, either by road or air where you will get to experience the best activities you can engage in at the Kenyan coast